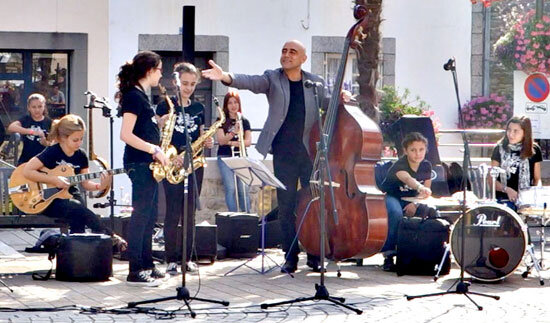 Fest Jazz, the young at heart and inspirational festival in Châteauneuf-du-Faou, Brittany, stars Joan Chamorro and the Sant Andreu Jazz Band in the 2016 edition!!!  It's going to be wonderful to see those 30 talented young musicians again.  
"They rarely play as a band outside Barcelona and we are very proud that they are so keen to come to Fest Jazz this year" says festival director Trevor Stent. "They will be playing in small groups during the weekend and then as a Big Band on the Sunday evening. It will be fantastic!
"For UK jazz fans there' still time to book. It means a short hop across the Channel and a not to be missed opportunity to see this extraordinary group of young talents, including trumpet star Andrea Motis.  Brittany Ferries is again offering a promotional package for Fest Jazz and I hope as many British people as possible will join in the fun with us."
Trevor Stent
A Wonderful Fest Jazz Return for Malo Mazurié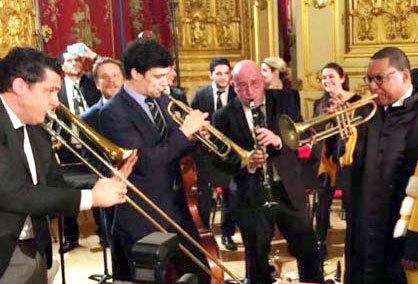 Photographed in February this year at a reception in Lyon with Wynton Marsalis, sensational young trumpeter Malo Mazurié (second left) played in the very first Fest Jazz at the age of 12 in 2005. One of the most gifted French trumpeters of his generation, he is now an international star with concerts from Tokyo to New York and will be back at Fest Jazz this year.
Fest Jazz 2015 Malo Mazurié's Hot Five: Mahogany Hall Stomp

Malo Mazurié : Trompet
Attila Korb : Trombone
Sean Moyses : Banjo
David Lukacs: Clarinet
Harry Kanters: Piano
"Panique sur le Manche"


Also signed up for Fest Jazz are "Panique sur le Manche" starring 13 year old Eliot Busca on rhythm guitar with his father on bass, from close by Châteauneuf. This is a short demo of Eliot's talent.
BOOKING FOR FEST JAZZ 2016
Booking online for the Festival only
Brittany Ferries have once again teamed up with Fest Jazz Organisers to offer a special weekend ferry crossing plus reduced entry to the festival.
Special weekend ferry crossing plus ticket offer. 
Don't delay, book online NOW!
See also:
Great Jazz, "Dizzy" Bands, Full On Fun Assured for Fest Jazz, 2016
"Beauty" and Ben Holder Set to Enthral Fans at Fest Jazz 2016
Fest Jazz Preview: Joan Chamorro & The Sant Andreu Jazz Band at Fest Jazz 2014
Newly Released YouTubes of The Sant Andreu Jazz Band Herald Countdown to
Fest Jazz 2016
Prelude to Fest Jazz, 2016: "I Remember Clifford" Eva Fernández, at Fest Jazz 2014
Re-Release! Fest Jazz 2016 to Feature Joan Chamorro's Incredible
Sant Andreu Youth Band
Jazz&Jazz.com
"Jazz & Jazz" is an invaluable platform for news about young bands and musicians. It's a great way for organisers like me to know what is going on! The enthusiasm of Peter Butler is inspirational and infectious and has certainly done much to boost the reputation of Fest Jazz  beyond the boundaries of Brittany.  Long may the site continue and flourish!" (Trevor Stent)
Please follow and like us: