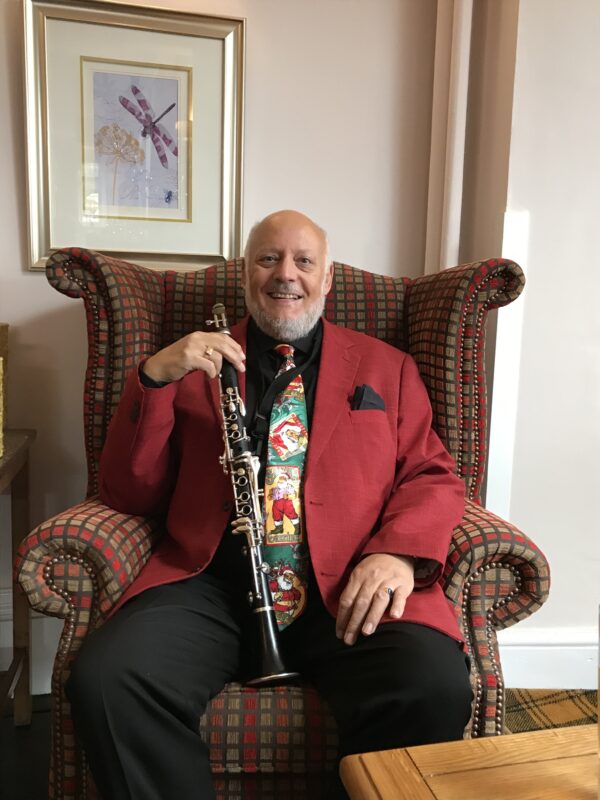 Pete Allen celebrates his 45 Years of band leading at Pizza Express Soho on Monday,
4th December 2023.
Doors open at 6:30pm, concert starts at 8pm.

Be sure to book early.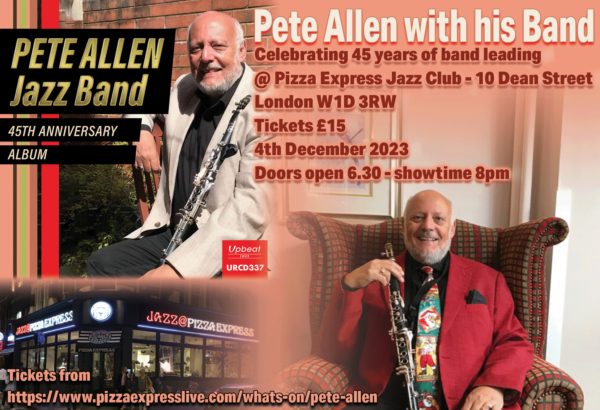 During his professional career in show business there is so much Pete has achieved that it's impossible to list everything. His band has always featured a host of British talent and his present line-up is no exception:
Jim Newton (drums), Dave Hanratty (bass), Roger Marks (trombone),
James Clemas (piano) Pete Allen (clarinet and saxes),
Chris Hodgkins (trumpet) who has rejoined the band after 40 years.

The Band have just released a 45th Anniversary Album on Upbeat Jazz.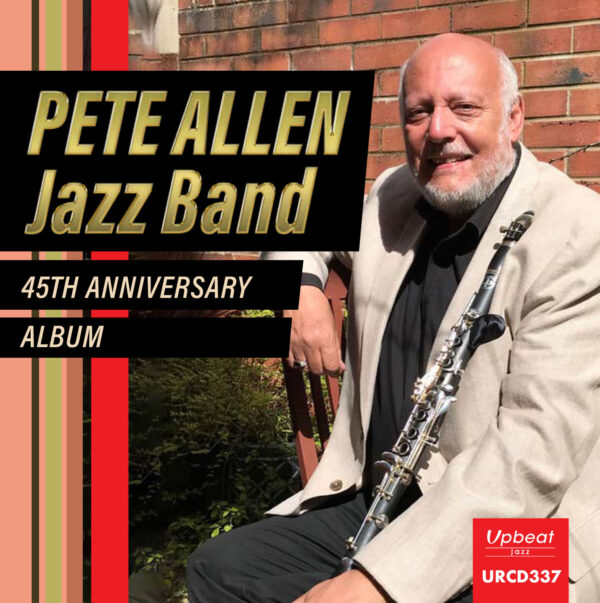 Pete joined the Rod Mason Jazz Band in 1976 and formed his own fully professional band on the 1st of October 1978.
Throughout the late seventies, eighties, and nineties, the Pete Allen Jazz Band was the most featured band of its style on a host of popular BBC Radio Two programmes, including regular slots on the Terry Wogan Breakfast Show and others presented by Jimmy Young, John Dunn, Ray Moore, Gloria Hunniford, Pete Clayton, Humphrey Lyttleton, Sheila Tracey, and Brian Matthew.
He also featured on "Music While You Work", "Friday Night is Music Night" and a number of Bank Holiday Special broadcasts for Pete Murray
and Paul Daniels.
In addition to radio, the band made regular appearances on television for BBC Pebble Mill at One and Harry Secombe Highway, plus Jazz Specials for Border TV, TSW, TV South, HTV West, BBC South, and BBC West. He also made appearances on various European TV shows in Germany, Denmark, and Holland whilst on tour.
Over the years Pete has played alongside many American jazz legends including Billy Butterfield, Benny Waters, Peanuts Hucko and Bob Wilber.
Throughout his career, Pete has released over 100 recordings. The band represented England at the Sacramento Dixieland Jazz Jubilee USA in 1983, 1984 and 1986, attracting audiences of 85,000. Pete was also chosen to lead the Worldwide All Stars – a band that included Barrett Deems (drums) and Jack Lesberg (bass), both ex-members of Louis Armstrong's All-Stars.
In 1992, whilst playing tour dates in St Louis and New Orleans USA, Pete was awarded Honorary Citizenship of New Orleans for his services to British music and tourism"