Festival Organiser Trevor Stent messaged me:




"For me the Shake'Em Up Band is the best band in the world at the moment

(big statement but I believe it)".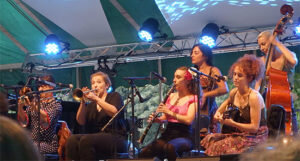 In an earlier Jazz&Jazz feature I announced that the festival this year was held over the summer's only rainy weekend! Financially this proved somewhat catastrophic. On Sunday, 29th July, only 402 spectators braved the appalling wind and rain, whereas in 2017 (and previous years) around 1100 enjoyed the Sunday jazz. Yet when the sun shone, as can be seen from Shake'Em Up's brilliant concert in a packed Scene 3, fans filled the marquee and swarming dancers filled the space on both sides of the marquee.
 In addition to Shake'Em Up's up close and intimate performance in Scene 3, I counted it a huge privilege to film much their concert in the main marquee.
Who's for seeing Shake'Em Up back at Fest Jazz? You can help save this inspirational festival. To find out how, simply visit "Help Save Fest Jazz".
Peter M Butler
Editor Jazz&Jazz
www.jazzandjazz.com
Don't delay, visit "Help Save Fest Jazz" NOW!
Please follow and like us: