Forgive me Ben, for the perhaps not so subtle implication, but imagine featuring at a jazz festival which also stars the "intoxicating" Taimane Gardner.
No need to imagine it, Jazz Fans and festival goers. Ben Holder and Hawaian Taimane Gardner will be star acts at Fest Jazz in July this year. They may not share the same stage but we can promise dynamic performances to conjure up vivid memories.
Taimane is the international star of the ukulele. She has played for George Clooney, John Travolta and the Dalai Lama … now she is playing at Fest Jazz!  A rare European concert for this amazing young talent.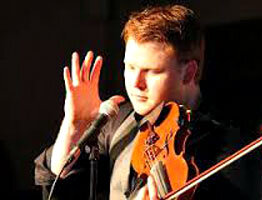 Taught classically from the age of six, Ben studied at the Birmingham Conservatoire and is one of the most gifted and exciting young jazz violinists in the UK with an innate sense of swing rhythm inspired by greats such as Grappelli and Joe Venuti.
Below are just two YouTube previews but book quickly for Fest Jazz 2016 at Châteauneuf-du-Faou to see them live along with a host more amazing bands and musicians.
BOOKING
Booking online for the Festival only
Brittany Ferries have once again teamed up with Fest Jazz Organisers to offer a special weekend ferry crossing plus reduced entry to the festival.
Special weekend ferry crossing plus ticket offer. 
Don't delay, book online NOW!
Peter M Butler
Editor & Proprietor Jazz&Jazz
(YouTubes © Peter M Butler, Jazz&Jazz, & Courtesy of the San Diego Ukulele Festival, 2014)
See also:
Fest Jazz 2016 Preview: Joan Chamorro & The Sant Andreu Jazz Band at Fest Jazz 2014
Newly Released YouTubes of The Sant Andreu Jazz Band Herald Countdown to Fest Jazz 2016
Prelude to Fest Jazz, 2016: "I Remember Clifford" Eva Fernández, at Fest Jazz 2014
Re-Release! Fest Jazz 2016 to Feature Joan Chamorro's Incredible Sant Andreu Youth Band
Please follow and like us: