Launched in Germany earlier this year, "The Jungle Jazz Band",
a veritable newcomer on European jazz circuits,
is quickly making its mark.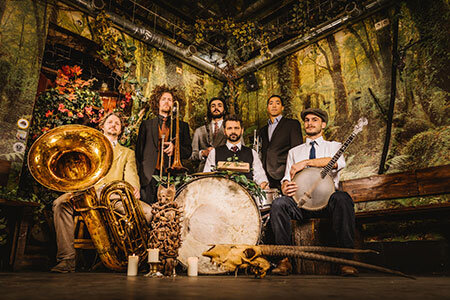 "In the Jungle" are Laurent Humeau (Trumpet), Eldar Tsalikov (Reeds, Vocal), Carlos Santana (Trombone, Vocal), François Perdriau (Drums, Cymbals, Cow Bell, Wood Block),
Quentin Bardi (Banjo) and Jack Butler (Soussa).
Jack has played with Frog and Henry.
Quickly established on the Berlin jazz scene, The Jungle are now reaching out across Europe, including the festival network. Most recently came a ten week tour of Holland taking in 40 variety shows during which they recorded five tracks with senior sound engineer, Thijs Peters.

"The Animule Dance", their first release, was produced in two sessions at the Nadanadi Studio, Berlin – in august 2018 and February 2019.
Jungle Jazz Band YouTubes
Next "Stomp" in the UK?
"We would love to share our passion for traditional jazz with UK audiences!" (The Jungle)
email: jazzandjazz@icloud.com

Peter M Butler
Editor & Proprietor Jazz&Jazz
Please follow and like us: