I received this sad message from my Jazzers friend Pamela Turner today:

"Hello Peter, Ivan's granddaughter sent me this video of her Uncle Damien reading messages from us at the wake. Thought you might like to see it." Pam.
Thank you so much for sharing this with me, Pam. I got to know Ivan so well over the years and we were frequently in touch between the UK and Aussie via the Web. Just a few days ago I announced the sad news about his passing: "A Very Special Jazz Tribute to Ivan Haloran".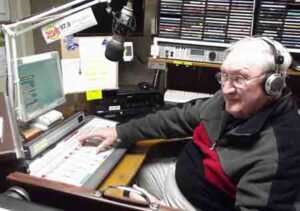 I'm so pleased to share this YouTube of Damien's tribute to Ivan at his funeral. And humbled to realise just how much Ivan counted me his friend. It was filmed at the funeral by his granddaughter.
My friendship with Ivan epitomises the human side I strive for on Jazz&Jazz – worldwide. It's not just about jazz, jazz bands, jazz musicians, jazz clubs, jazz fans – and featuring events and festivals.
It's about personalities and friendships, empathy, camaraderie. Ivan helped hold me to this.
Peter M Butler
Editor Jazz&Jazz
Please follow and like us: