"This year's Fest Jazz is revving up for another amazing festival on the banks of the the River Aulne at Châteauneuf-du-Faou, Brittany, organised by Trevor Stent and his loyal, enthusiastic and talented young team …

… "Each year they introduce newcomers, both bands and musicians, from the European jazz scene and bands from the USA and UK to blow us away. Last year the 'Sweet Peppers' came through brilliantly, mixing well to jam with the likes of Carling and the
Frog & Henry boys. This year I see the "Mama Shakers" from Paris making a big
impact and am glad we are booked up for another four days of really good music,
good food, meeting some lovely jazz friends and enjoying seeing those fun loving
swing dancers strut their stuff." (Norman Gibson)
 So "Let's Get Down To Business!"
THE MAMA SHAKERS FROM FRANCE
The Fest Jazz Programme stresses "This year the Fest Jazz focus is on youth! You'll be contaminated by the energy of Mama Shakers. These five young Parisians with a colorful and refreshing swing will transport you to the streets of New Orleans in a blink of an eye!"
AMANDA BROWN AND THE COMMON EARS FROM ENGLAND
Amanda Brown & The Common Ears are from the UK and play their very own versions of 1920s music along with a colourful mix of punk and bebop! Hailing from Liverpool's vibrantly eclectic music scene, expect to be amazed!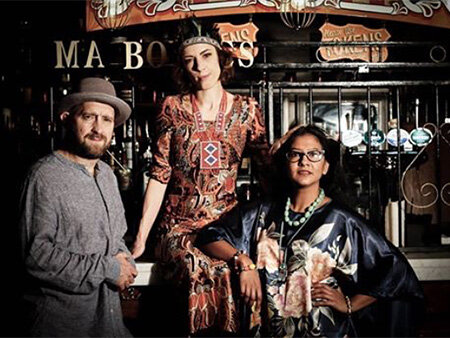 *** *** ***
"JAZZ CONNECTION" FROM BREDA, HOLLAND…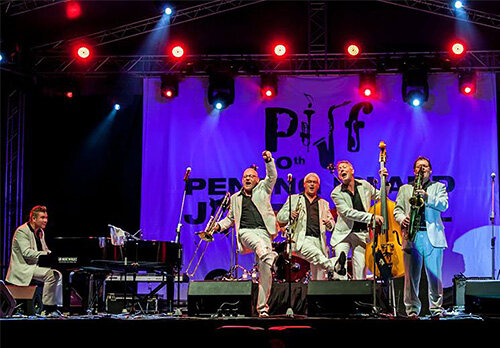 Jurgen Feskens (trumpet), Peter van Steen (trombone), Kees van Zijp (piano),
Rob Henneveld (saxophone/Clarinet), Bart Wouters (bass), Rene Vreugde (drums).
Jazz Connection was founded in 1990 in Breda, The Netherlands. They travel around the world with their jumping jive show.
*** *** ***
JUMP JIVE WITH GOOD TIME JAZZ!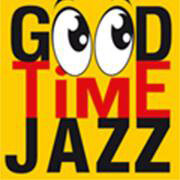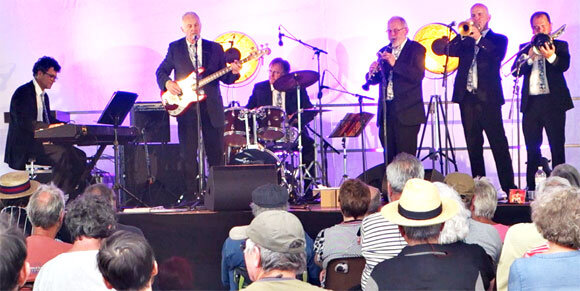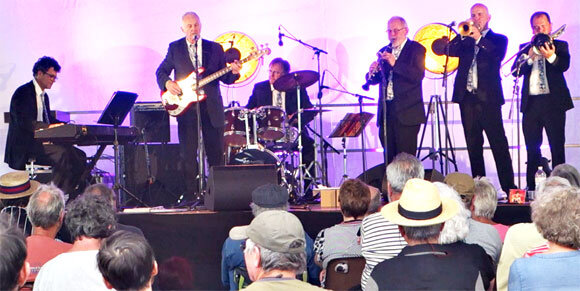 Good Time Jazz brought swing dancers galore to the floor at Fest Jazz, 2017, with "Tainted Love"! Thank you Jean Audignac for the video!
*** *** ***
"AUDREY ET LES FACES B"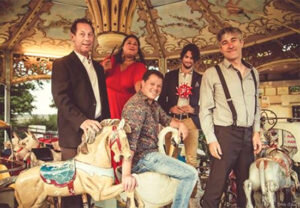 Presenting five musicians whose enthusiasm ripples through jam sessions to full blown enthusiasm on stage. Audrey's softly hoarse tones work wonders with Hoagy Carmichael's 1932 masterpiece "Rocking Chair" written for singer Mildred Bailey.
Audrey Joumas ("Chant"); Pascal "2000" Dennis (Piano); Jerome "Coco" Bellicaud (Drums); Eric "Operable" Sansiquet (Bass); Philippe "Juju" Juhel (Guitar/Harmonica)
*** *** ***
Also Starring
"Shake Em Up" Jazz Band with Marla Dixon
"Their groove coming directly from New Orleans is gonna make you dance again and again!"
"Frog & Henry" featuring F H Henry with his spectacular "Tuba Machine"
and Ewan Bleach with his selection of clarinets and saxophones.
Tad Newton's Jazz Friends: "All The Cats Join In"
*** *** ***
Best Ever Jazz Jamboree!
Fest Jazz 2018 is all set to become the biggest, best and most joyous Jazz Jamboree yet.
But that's all for now folks. Come back to Jazz&Jazz later for further releases and updates, when we will introduce you to the members of the youthful Fest Jazz Production Team including President Angelina Beauvir.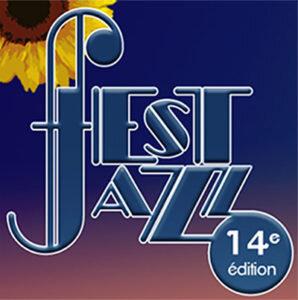 INFORMATION & BOOKING
View the Full Festival Programme
Brittany Ferries' offer:
http://www.brittany-ferries.co.uk/offers/events-festivals/fest-jazz-2018
Peter M Butler
Editor & Proprietor Jazz&Jazz
Please follow and like us: