A key aim of Jazz&Jazz and Jazz&Jazz YouTubes is to focus on and promote younger jazz musicians. Ben Holder is an outstanding jazz violinist and an exhilarating entertainer.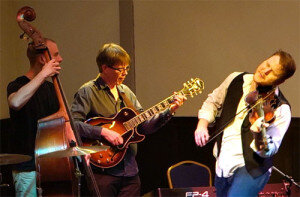 Here he is along with Malcom Garrett (drums), Paul Jeffries (bass), Jez Cook (guitar) performing with his Quartet at Bedford Golf Club back in October, 2015.
Also worth visiting: Focus on Violinist Ben Holder, Jazz Virtuoso
Visit the Essential Index of Jazz&Jazz YouTubes.
Peter M Butler
Editor & Proprietor Jazz&Jazz
(Photos & YouTubes © Peter M Butler, Jazz&Jazz)
Please follow and like us: