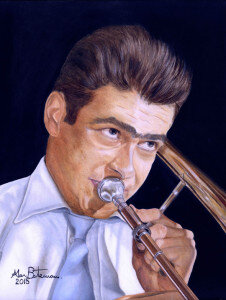 Sadly John Bennett is no longer with us. Yet another Jazz Great Star to depart the scene.
What better way to commemorate him than to repost Alan Bateman's magical portrait
of him back in his days with Kenny Ball and his Jazzmen.
Plus this massively memorable performance of Midnight in Moscow. 
The band cuts a formidable line up, especially John alongside Kenny.
This is one of my all time favourites and how could it not be! It hit the charts in 1962 when I was just 20. It was influential in drawing me into jazz when I lived in Herne Bay, Kent, where so many of the great bands of those years performed at The Kings Hall on The Downs.
Jim Appleton has emailed "John's funeral will be held at 12.30, Wednesday,
21st June at Enfield Crematory, Great Cambridge Road on the A10.
After at the pub next to the Wyllotts Theatre in Potters Bar."
Peter M Butler
Editor & Proprietor Jazz&Jazz
Please follow and like us: