OUT OF COURTESY TO TUBA SKINNY'S AGENTS I HAVE BEEN AWAITING OFFICIAL NOTIFICATION REGARDING THE CANCELLATION OF TUBA SKINNY'S 2014 UK TOUR. HOWEVER, IN VIEW OF THE MANY CALLS AND COMMENTS JAZZ&JAZZ HAS RECEIVED ABOUT THE CANCELLATION, WE ARE NOW IMPELLED TO CONFIRM THE CANCELLATION AND UPDATE THIS POST WITH THE ANNOUNCEMENT POSTED BY ERIKA LEWIS ON TUBA SKINNY'S FACEBOOK PAGE:
"So, we've been scrambling to come up with a tour in the UK this summer, but unfortunately, do not have the funds necessary to make it there and back. We are hoping that next summer will provide the opportunities to make it happen. Thanks to all who have encouraged us to come over, hopefully we will see you next year!"
Yes, Erika, let's hope for next year. The UK JAZZ COMMUNITY truly want Tuba Skinny to tour the UK and would be only too willing to help make it happen.
*** *** ***
The uppermost aim of Jazz&Jazz is to keep jazz live and alive! Key to this is our aim to promote new bands, emerging bands, YOUNG BANDS.
Tuba Skinny is just such a band. They are rapidly honing their skills in the true roots of authentic jazz. Tuna Skinny are dynamite.
Given their website introduction, the band can't fail to be music to the ears of lovers of New Orleans Revivalist Jazz:
"Formed in in 2009, Tuba Skinny has steadily evolved from a loose collection of street musicians into a solid ensemble dedicated to bringing the traditional New Orleans sound to audiences around the world. Drawing on a wide range of musical influences—from spirituals to Depression-era blues, from ragtime to traditional jazz—their sound evokes the rich musical heritage of their New Orleans home. The band has gained a loyal following through their distinctive sound, their commitment to reviving long-lost songs, and their barnstorming live performances."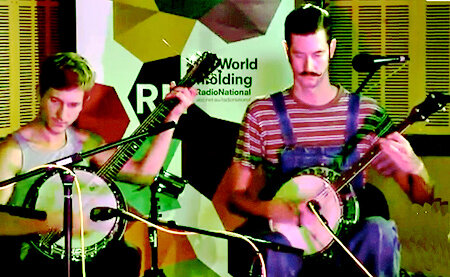 So, anticipating a Tuba Skinny UK tour next year, it should be imperative that we do not miss out on the opportunity of welcoming them as part of the 2015 UK jazz scene. With real jazz resurgent in New Orleans and amongst younger groups in the UK the opportunity could and should be seized to rebuild jazz bridges to their former glory. For instance, to the days when George Lewis toured the UK with our formidable bands of his era. And in return his UK protege Sammy Rimington played in Preservation Hall with him.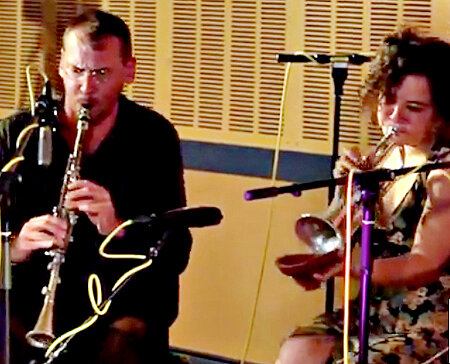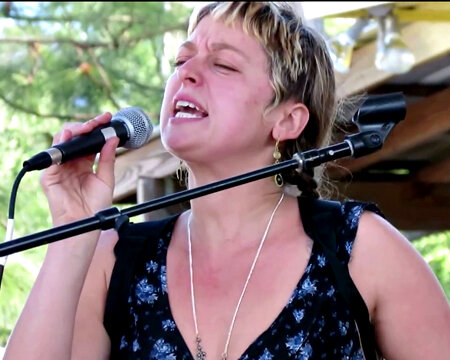 Tuba Skinny is: Erika Lewis, Vocals; Todd Burdick, Tuba; Bobby Browne, Guitar & Tenor Banjo; Shaye Cohn, Cornet; Barnabus Jones, Trombone; Robin Rapuzzi, Washboard;
John Doyle, Clarinet
Live set, ABC National Radio, Sydney, Australia: http://goo.gl/cT0Ptr
Tuba Skinny with Erika Lewis on vocals performing at Louisiana Busker Fest in Abita Springs, La 22.4.2013: http://goo.gl/okgl6I
Stills courtesy of ABC, Australia.
See also: Introducing Tuba Skinny! Flying the Flag for a New Era of New Orleans Jazz Bands.
For the full Tuba Skinny Story visit:
Please follow and like us: