Barely three weeks to go until the
Grand Fest Jazz launch at Tal Ar Pont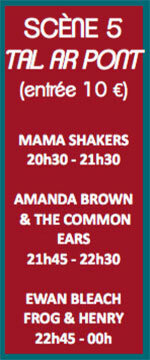 Mama Shakers
Thursday 26th July: 8.30 – 9.30pm
Fest Jazz features young, up and coming bands. Inspired by 1920s News Orleans music,
The Mama Shakers are from Paris. Their enormous energy and charm, their fascinating arrangements and musical talent will make them a sure-fire
2018 Fest Jazz hit!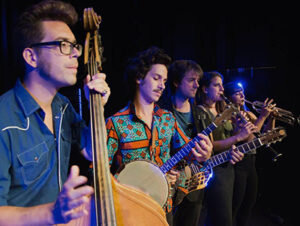 Amanda Brown & The Common Ears
Thursday 26th July: 9.45 – 10.30pm
Amanda Brown & The Common Ears formed at the end of 2015, and November 2016 saw them release their critically acclaimed debut EP – "Medicinal Biscuit". Amanda, a long time purveyor of vintage Jazz and Blues in Liverpool, brought together musicians from Liverpool's vibrant and eclectic music scene, to create a sound mixing her 1920s and 1930s roots with Punk, Bluegrass, Rock and Bebop. Amanda's charming band will be a winner at Fest Jazz this year.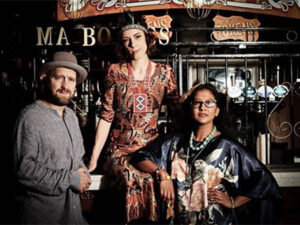 Ewan Bleach Frog & Henry
Thursday 26th July: 10.45 – 12 midnight
Ewan Bleach is a clarinettist, saxophonist, pianist and singer specialising in 1920s and 1930s jazz and blues. One of the most respected and popular New Orleans style musicians, he regularly visits The Big Easy for inspiration and has played many times with the renowned New Orleans street band, Tuba Skinny.
He currently works as a clarinettist with several London jazz bands including "The Basin Street Brawlers" and "The Old Hat Jazz Band". At Fest Jazz 2018 he will again be teaming up with "Frog and Henry", the New Orleans collective who were such a hit at the festival last year.
This is the future of jazz:
A Special Message from Jazz&Jazz for Trevor Stent, Angelina Beauvir, Margot Flamery, Mélanie Jouet and the entire Fest Jazz Team with thanks for such organising such a magnificent festival year after year.
More features will follow over the next week introducing more of the brilliant bands and musicians starring at Fest Jazz 2018.
Meantime meet the 2018 Fest Jazz Team.
Peter M Butler
Editor & Proprietor Jazz&Jazz
Please follow and like us: