Norman Gibson reported in Jazz North West, courtesy of Fred Burnett: "I have to report that there is no doubt that the Frog and Henry Trio UK Tour started with the best audience reception I've witnessed at Kendal Jazz Club in a long while. This was a really good marker for the success of their tour.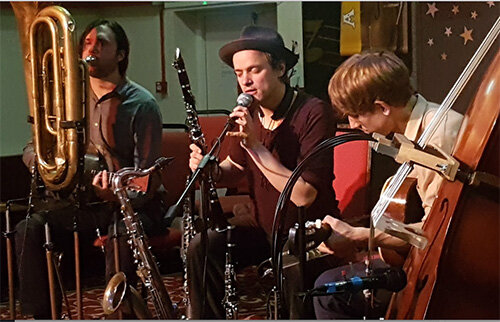 "The latest version of the Fotdella Double Bass Machine behaved itself on it's debut and created a lot of interest at the interval. Not only is FH Henry an amazing and pleasant young musician, he is a clever engineer to boot! Ewan Bleach is a rising star and had the audience in raptures with his playing, moving easily with his choice of two clarinets to alto and tenor saxes. Hadn't seen Dave Neigh before, but he kept the rhythm going strong on his Tuba Machine, also constructed by FH Henry, whilst accompanying on steel guitar – at the same time of course.
"My crowd mirrored their earlier reception at Kendal with standing ovations – some even singing along to the numbers. And there were dancers at the band's encouragement. Why, we even had an 85 year old tap dancer!  All in perfect time. These young guys only drink water while playing. But they stayed with us overnight so we had supper and a few bevies to round
off an amazing evening.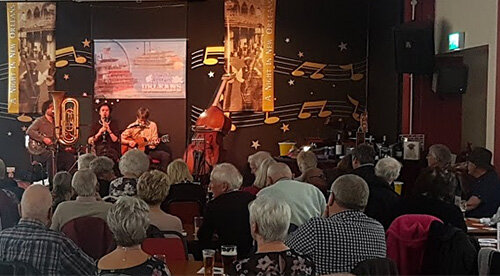 "I wish I was 10 years younger as I see the jazz scene finally waking up to the new young musicians who are determined to carry the music forward. Three north west promoters joined us, one of whom has provisionally booked Frog and Henry
for a 2019 return tour.
"In all we had an enthusiastic crowd of 90, and an end result of £345.00 towards a £2,500 target for St. John's Hospice Lancaster. No way could it have been bettered ! And a big 'THANK YOU' to you Fred Burnett and Jazz North West for all you do for jazz. I'll still be around and doing what I can to help promote Frog & Henry's UK tour next year."
Norman Gibson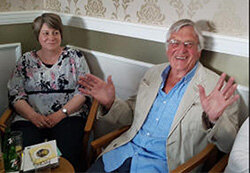 Norman Gibson "Happy Days"
Photo Courtesy of Jazz North West 
The March Edition of The Jazz Guide depicted "Jump Jive & Swing By The Sea"!
Way to go! So how about Jazz Jive & Swing with Frog & Henry!
At Jazz&Jazz we call it New Wave Jazz and the Way to Go! More Soon!
Peter M Butler
Editor & Proprietor Jazz&Jazz
Please follow and like us: