Little Witley Village Hall Committee email me: "We wondered if it would be possible to get a posting on your website for our upcoming jazz evening with The Freetime Old Dixie Jass Band. Little Witley Jazz have been running jazz evenings since the early 80's including The Zenith Hot Stompers, Humphrey Lyttleton, Kenny Ball, Tommy Burton and many more."
With a line up like that how could I refuse!
They tell me the jazz nights at Little Witley stopped in 2015 but were revived last year with a Spatz Langham's "Hot Fingers" sell out show, demonstrating that the appetite for
Little Witley jazz evenings is as strong as ever.
The jazz evenings were run by locals Vernon and Veronica Ashley for 34 years and indeed they assisted our committee in organising last years events with their invaluable experience. With the success of the "Hot Fingers" jazz evening, Little Witley Jazz lives on under the Village Hall Committee's watchful eyes.
So, it gives me great pleased to announce on Jazz&Jazz your next Little Witley Jazz Event:
Friday 6th April, 7.00 for 7.30pm.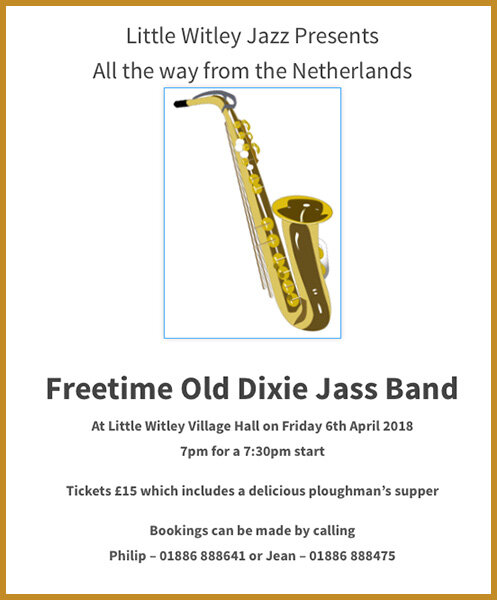 Peter M Butler
Editor & Proprietor Jazz&Jazz
Helpful References: 
Please follow and like us: