Jazz&Jazz is saddened yet honoured to feature this
magnificent tribute to Max Collie from his Manager, Martin Ross,
posted today (6th January) on our earlier post:
Time to Give Back to Max for all He has Given to Jazz"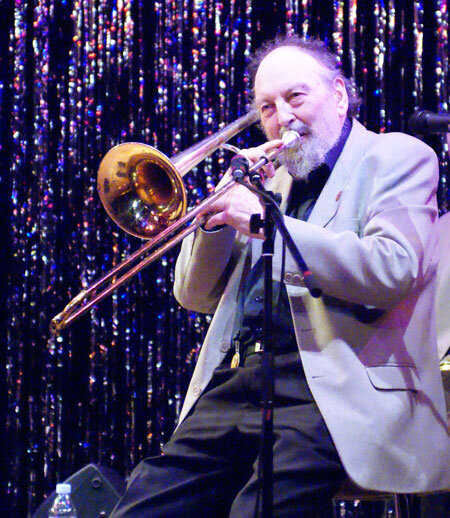 Sorry to report Max Passed away today 6th January 2018.
MAX COLLIE – World Champion of Jazz
John Maxwell Collie was born in Melbourne, Australia on 21st February 1931. He first heard professional jazz in1946 listening to Graham Bell's lunchtime concerts at The New Theatre Melbourne. By 1948 he was playing with a local band and shortly after, leading it.
The famous Melbourne New Orleans Jazz Band were on tour in Europe and Max received a cable offering him the trombone chair, so in April 1962 Max arrived in England [to coincide with Beatlemania and the collapse of the British Trad scene] to tour Europe until that band went back to Australia a year later. Max decided to stay and joined the London City Stompers, becoming leader after a year, until February 1966, when he formed Max Collie's Rhythm Aces and that band, notwithstanding the collapse of the UK jazz scene, went on to become world famous. Max was simply a great band leader and got the best out of everyone, converting them to his unique sound. He knew that no group of artistes no matter how talented as individuals can bring forth the authentic New Orleans style if they can't work together day after day as his band did, as the last of the touring bands. He was able to get his highly professional and experienced musicians as though by magic to play the style and the way he wanted and achieve the level of musical perfection required.
In 1972 Sam Johnson, an avid jazz fan, whose stepfather had the longest running jazz radio show in history and whose uncle was President of the USA, started following the band. Sam Johnson became the American Tour Manager and with Martin Ross overall manager, led Max into a different world, first with a 25 days tour of the USA, then a 45 day tour, then a 66 day tour and finally an 84 day tour. All unheard of for a non US musician and the nationwide USA success of these 220 US appearances led to Max winning the World Championship of Jazz in Indianapolis against the cream of North American jazz bands. A total of 44 states were travelled by band wagon and most jazz festivals and clubs across the USA were played, along with many TV appearances and countless radio shows. Terrific publicity followed this success in the jazz world and tours of Sweden, Denmark, Norway, Finland and Japan were added to the regular European itinerary. The Bands only ever Manager Martin Ross, persuaded Max that it was time to take advantage of his new found fame and do a Theatre Show called simply "Max Collie's New Orleans Mardi Gras", which although a vehicle for Max also included the legendary Ken Colyer and Cy Laurie and turned out to be the most successful jazz show in British jazz history performing approximately 700 shows across every major venue in Britain. Max had now played over 3500 major jazz festivals all over the world from Antibes to New Orleans itself, 1200 theatre concerts, countless jazz clubs and made 50 recordings many of which are now collector's items, plus DVD's and 100's of TV and Radio show appearances.
His secret was that not only was he a great band leader but he had also developed his own sound and had a marvellous dedication to his concept of this unique art form. No engagement was just another gig to Max. 100% effort went into every performance, which is why such a high standard was maintained over the years. Artistes who were members of the band from time to time are in themselves a history of British Jazz and include:
Trumpets: Chez Chesterman, Trevor Arnold, John Keen, Phil Mason,
Denny Ilett, Ken Colyer.
Clarinets: Roy Pellett , Karl Hird, Jumping Jack Gilbert, Trevor Whiting,
Paul Harrison, Cy Laurie, Jerry Senfluk, Jonny Boston, Tony Pyke,
Steve Mellor, Gabe Essien
Banjo: Jim Cox, Eddie Edwards, Gentlemen Jim McIntosh, Jim Wright,
John Cherry, Chris Marney, David Bashford, George Walker, Dickie White.
Bass: Annie Hawkins, John Healy, Trefor Williams, Count John McCormick,
Andy Lawrence.
Drums: Tony Scriven, Phil Franklin, Ron McKay, Pete Cotterill, Robert Cotterill, Emile Martyn,
Alan (Slim) Poston, Baby Jools, John Petters.
Piano: T J Johnson, Lord Arsenal.
Vocalists: Jan Sutherland, T J Johnson, Christine Tyrrell, Claire Solomon,
Marilyn Middleton Pollock, Pauline Pearce.
Roadies: Pete Marr, Syd Appleton and Andy Firth
Deputy trombonists: Gentleman Jim McIntosh (who also played Banjo)
and Mike Pointon.
Worldwide Manager: Martin K Ross
USA Tour Agent/Manager: Samuel S. H. Johnson.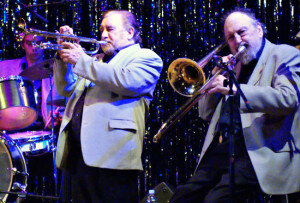 Peter M Butler
Editor & Proprietor Jazz&Jazz
(Photos © Peter M Butler, Jazz&Jazz)
Be sure to visit "Time To Give Back To Max" for many more tributes to the Great Man.
Please follow and like us: