All you Jazzers out there who got fun and enjoyment listening to Max Collie over the years will be sad to hear that he has had a stroke, has lost his eye sight and is in hospital in a pretty bad way. His two daughters are raising funds towards the costs of getting him into 24 hour care and we are all freely volunteering to help by selling off the last of his CD and DVD stock for him.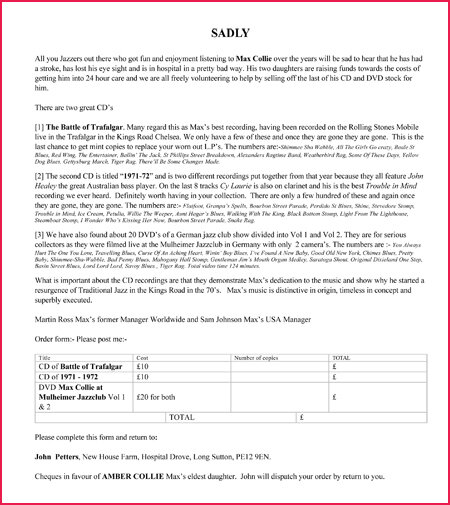 There are two great CD's
[1] The Battle of Trafalgar. Many regard this as Max's best recording, having been recorded on the Rolling Stones Mobile live in the Trafalgar in the Kings Road Chelsea. We only have a few of these and once they are gone they are gone. This is the last chance to get mint copies to replace your worn out L.P's. The numbers are:-Shimmee Sha Wabble, All The Girls Go crazy, Beale St Blues, Red Wing, The Entertainer, Ballin' The Jack, St Phillips Street Breakdown, Alexanders Ragtime Band, Weatherbird Rag, Some Of These Days, Yellow Dog Blues, Gettysburg March, Tiger Rag, There'll Be Some Changes Made.
[2] The second CD is titled "1971-72" and is two different recordings put together from that year because they all feature John Healey the great Australian bass player. On the last 8 tracks Cy Laurie is also on clarinet and his is the best Trouble in Mind recording we ever heard. Definitely worth having in your collection. There are only a few hundred of these and again once they are gone, they are gone. The numbers are:- Flatfoot, Granpa's Spells, Bourbon Street Parade, Perdido St Blues, Shine, Stevedore Stomp, Trouble in Mind, Ice Cream, Petulia, Willie The Weeper, Aunt Hagar's Blues, Walking With The King, Black Bottom Stomp, Light From The Lighthouse, Steamboat Stomp, I Wonder Who's Kissing Her Now, Bourbon Street Parade, Snake Rag.
[3] We have also found about 20 DVD's of a German jazz club show divided into Vol 1 and Vol 2. They are for serious collectors as they were filmed live at the Mulheimer Jazzclub in Germany with only 2 camera's. The numbers are :- You Always Hurt The One You Love, Travelling Blues, Curse Of An Aching Heart, Winin' Boy Blues, I've Found A New Baby, Good Old New York, Chimes Blues, Pretty Baby, Shimmee-Sha-Wabble, Bad Penny Blues, Mahogany Hall Stomp, Gentleman Jim's Mouth Organ Medley, Saratoga Shout, Original Dixieland One Step, Basin Street Blues, Lord Lord Lord, Savoy Blues , Tiger Rag. Total video time 124 minutes.
What is important about the CD recordings are that they demonstrate Max's dedication to the music and show why he started a resurgence of Traditional Jazz in the Kings Road in the 70's. Max's music is distinctive in origin, timeless in concept and superbly executed.
Martin Ross Max's former Manager Worldwide and Sam Johnson Max's USA Manager.

Please complete the form above and return to:
John Petters, New House Farm, Hospital Drove, Long Sutton, PE12 9EN.
Email: tjpost@traditional-jazz.com
Cheques in favour of AMBER COLLIE Max's eldest daughter. John will dispatch your order by return to you.
Please follow and like us: