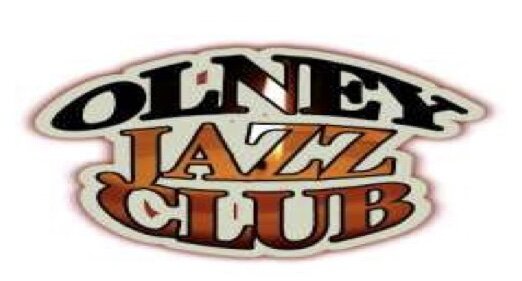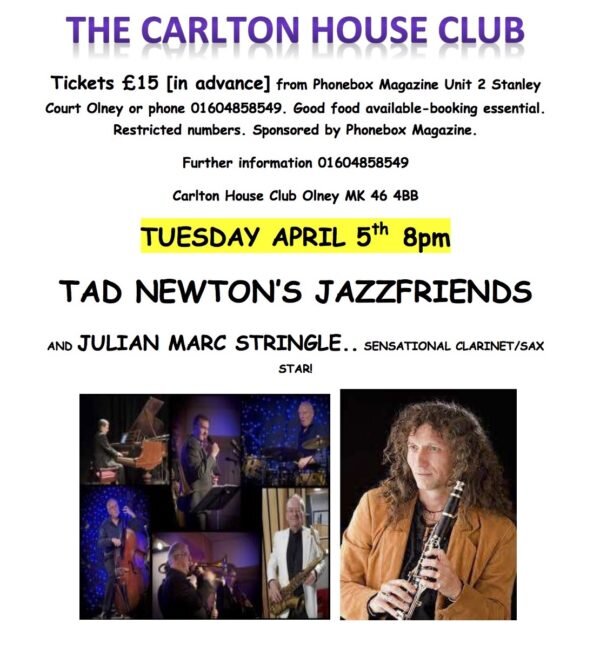 OLNEY JAZZ CLUB NEWSLETTER MARCH 2022
Hello OJC Supporters…. It has been very gratifying that we have been
able to provide some fabulous jazz nights for you at The Carlton House Club in recent months despite the trials and tribulations of current times. We have all enjoyed the wonderful sessions recently with Graham Smith's Jazz Allsorts and Kevin Grenfell and the Jazz Giants. Long may this continue! Government Covid restrictions are being eased. However,
I hope you agree that for the time being it is sensible to be cautious especially in the light of rising infections at the moment, and so we intend to continue to monitor our numbers carefully in order to keep everyone safe. We will also continue to operate without the raffle. We will continue to reappraise as and when is necessary. All being well, we have some great bands and musicians in the pipeline for you, amongst others… Julian Marc Stringle guesting with Tad Newton's Jazz friends, Andy Dickens Hot Gumbo, Harlem Big Band, Clarke Tracy/Alex Clarke Quartet, see details below!… and more to follow hopefully!
Our next session at OJC on Tuesday, April 5th features Tad Newton's Jazzfriends with very special guest the fantastic Julian Marc Stringle [clarinet/sax]. Call me on 01604858549 or email [email protected] to reserve tickets or tickets are also available at Phonebox Magazine in Olney.
OLNEY JAZZ CLUB… coming up… all sessions 8-10.30pm
Tuesday, April 5th-Tad Newton's Jazz friends.
Gary Wood [trumpet/vocal] Mike Wills [clarinet/saxes], Tomas Pederson [bass] Ronnie Fenn [drums], Alan Haughton [piano]
Tad Newton [trombone/vocal].
"Basin Street to Basie and Beyond!" …with special guest
Julian Marc Stringle [clarinet/sax]. Julian was voted best clarinettist at the British Jazz Awards in 2006, 2007 and 2019. His major influences have been Benny Goodman, Artie Shaw, and Buddy De Franco. Julian's highly melodic music and unique sound excites the jazz audience wherever
he performs.
"The best clarinettist to emerge in British jazz in decades"
Sir John Dankworth.
Tuesday, May 3rd – Andy Dickens' Hot Gumbo – "Evoking the warmth and exuberance of Mardi Gras New Orleans; the jazz heat of Chicago and the excitement of New York Swing". Featuring some of the top jazzmen from the south and south west of England. Andy Dickens [trumpet/voacals], Trevor Whiting [sax/clarinet], Mark Aston [baritone sax/trombone], Simon Picton [guitar/banjo], Brett Nevill [bass] and
Richie Bryant [drums].
Tuesday, June 7th – Harlem Big Band – vintage big band jazz from
New York in the late 1920s and early 1930s in the electrifying style of Duke Ellington, King Oliver, Cab Calloway, Fletcher Henderson, McKinney's Cotton Pickers et al. Top trombonist and "Tricky Sam" stylist Bob Hunt has reformed the legendary Harlem previously the creation of the late Paul Munnery. Now directed by Bob Hunt and Michael Kilpatrick and featuring Trumpets: "Magic" Mike Henry, Charles Manning,
Wil Robinson Trombones: Bob Hunt, Mick Bruce Reeds: Zoltan Sagi, Richard Exall, Michael Kilpatrick Piano: Art Tobin Guitar/banjo: Rachel Hayward Drums Nick Ward Vocals and presentation: Sarah Spencer
Yours in Jazz……Tad Newton
Copyright © 2022 Olney Jazz Club, All rights reserved.

Please follow and like us: