Now back at The Walnut, one year later,
DON'T MISS OUT!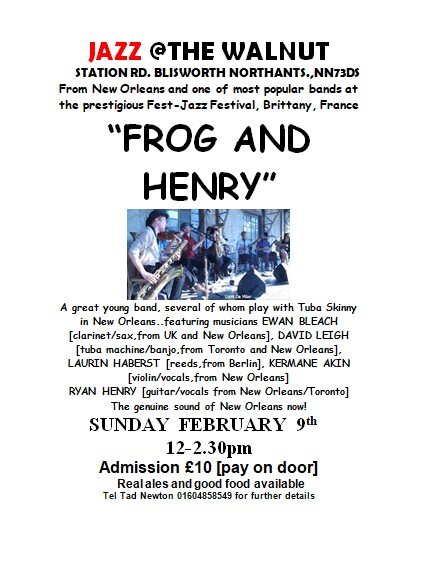 At their 2018 Fest Jazz Special:
EWAN BLEACH (reeds), WILL SCOTT (reeds), H. HENRY (guitar & vocal),
KERMAN ARKEN (violin & vocal), DAVE NEIGH (foot pedal tuba &
six-string banjo simultaneously)
Peter M Butler
Editor Jazz&Jazz
(Photos/YouTubes © Peter M Butler, Jazz&Jazz)

STATION ROAD, BLISWORTH, NORTHANTS, NN7 3DS
Great venue, three miles from J15 on M1.
Free parking, real ales, great hot food, bar snacks.
Top national and international jazz bands.
ADMISSION: £10 on the door
LIVE JAZZ … USE IT OR LOSE IT!
TAD NEWTON 01604 858549
www.tadnewtonsjazzfriends.com
Peter M Butler
Editor Jazz&Jazz
Please follow and like us: