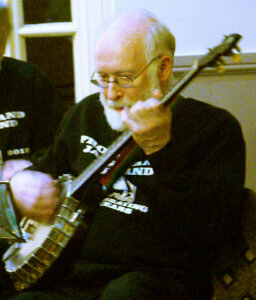 The sad news that Nick Singer had passed away, so soon after I filmed him playing with Doolally Tap at The Ivy House in September, stunned me.
David Lalljee paid him a very special tribute:
"Nick was diagnosed with Motor Neurone disease which progressed quickly in the last month. He slipped away peacefully in hospital with his family around him. I and the rest of the band are completely devastated.
"Roughly 300 gigs in the last six years and many many memories of an extraordinary human being, banjo player and vocalist. He's irreplaceable.
"I'm happy to say he was still playing with us until the end of September when his amazing voice was as consistent as ever. So many times we've witnessed an entire audience reduced to tears by the sheer beauty and vulnerability of his version of "Over the Rainbow".
"He had his own unique charm, an extraordinary person in every respect. It's been an honour and a joy to call him a friend and colleague. We will miss you Nick." David Lalljee
Below: So sadly appropriate, Nick singing
"After You've Gone" with The Frog Island Jazz Band at Ramsgate Seaside Shuffle, Summertime, 2019:
I miss Nick too, David, having followed him with Doolally Tap and earlier, during his days with The Frog Island Jazz Band. He was "something special" and I will treasure my last conversations with him at The Ivy House and earlier in the Summer in The Small Boat Owners Club at
Ramsgate Seaside Shuffle.
The funeral march filmed in honour of Nick by Mark of Ealing
Peter M Butler
Editor Jazz&Jazz
(Photos & YouTubes © Peter M Butler, Jazz&Jazz)
Please follow and like us: