I was delighted to hear from my long standing Japanese Jazz Friend
Yoshio Toyama just a few days ago. His email contained just one line:
"Japanese leading news paper in English had an article on us!"
But he enclosed the article which I know he would want me to share
with my followers here on Jazz&Jazz.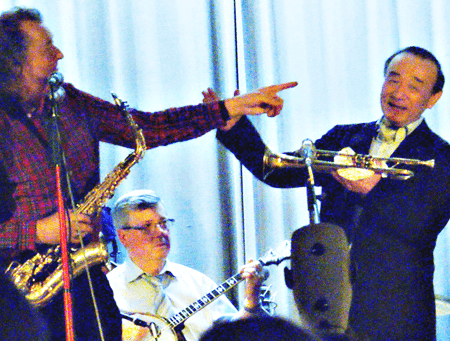 NEW ORLEANS – Yoshio Toyama and his wife, Keiko, have spent most of their lives as unofficial musical ambassadors between Japan and the American city of New Orleans.
In New Orleans, Toyama, a trumpeter and singer, is known as the "Satchmo of Japan" for his skillful ability to imitate Louis "Satchmo" Armstrong's voice and tone. Since 2003, Yoshio and Keiko, a pianist and banjo player, have traveled to New Orleans almost every year to perform at the
Satchmo SummerFest, a music festival held annually to recognize the jazz great's birthday.
While the Toyamas didn't make their annual pilgrimage to New Orleans this year, the Tokyo-based couple will soon help bring a piece of New Orleans to Japan.
Toyama's band, Yoshio Toyama & the Dixie Saints, is set to perform at the 33rd Annual Asakusa New Orleans Festival on Aug. 22 and 23, sharing the bill with visiting group Tom Fischer and the New Orleans Jazz All-Stars.
"Now, on TV, we see Europe, the United States, Africa and all these kinds of countries. We've heard of everything," says Toyama in reference to Japanese people's modern global perspectives. But when he was young, his world was much smaller.
The 75-year-old says he didn't have a television during junior high school and recalls that he could only see other countries on one television program during high school.
The limited amount of information heightened the young man's curiosity about the unknown. During high school, Toyama became fascinated with jazz and its birthplace, New Orleans. Already a trumpeter, Toyama began to religiously practice Louis Armstrong's music and even read Armstrong's book, "Satchmo: My Life in New Orleans," in English.
In 1963, Toyama was astonished when New Orleans clarinet player George Lewis traveled to Japan for a tour.
"That was like somebody coming from Mars or something," he says with a laugh. The then-19-year-old followed Lewis' band around Japan.
Lewis' manager Allan Jaffe suggested Toyama travel to New Orleans. Some years later, he took the advice, and, between 1968 and 1973, the Toyamas lived in New Orleans and studied under some of the city's musicians.
The year following Lewis' visit to Japan was even more significant for Toyama. In 1964, he got to watch his hero, Louis Armstrong, perform in Kyoto — a performance that provided him with a somewhat unusual highlight.
"I sneaked into the break room and I blew his trumpet!" says Toyama.
Louis Armstrong's birthday, Aug. 4, is always a big day for Toyama. Since 2003, he has traveled with Keiko to New Orleans almost every year to perform at Satchmo Summerfest around that day.
This year marked only the second time since 2003 that the Toyamas have missed the festival. But that doesn't mean that they forgot to celebrate the special day.
This year, on Armstrong's birthday, Toyama released "When the 'Dixie Saints' Go Marchin' In," a collection of newly recorded Louis Armstrong covers. The self-released album is his first output as a bandleader in 19 years.
"I was afraid in the beginning," he says. "But when we started making it, we got carried away because I wanted to feature all the musicians."
The resulting frenzy led to a recording resurgence. In the coming months, Toyama plans to release three more albums, two of which he recorded earlier this year and one that he recorded in 2000. One of the albums will feature Disney songs, a nod to the Toyamas' tenure as performers at Tokyo Disneyland between 1983 and 2006.
The Toyamas also chose August 4th to host a party in recognition of the 25th anniversary of the Wonderful World Jazz Foundation, a philanthropic group of Louis Armstrong enthusiasts in Japan.
Since 1994, the Toyamas and the group have directed their collective passion for Armstrong and jazz into providing musical instruments for children in New Orleans. To date, the Wonderful World Jazz Foundation has donated more than 850 instruments. Toyama estimates the foundation has also donated around $120,000.
"I thought everybody, Japanese people and the whole world, should say thank you to the United States for giving the world such a wonderful present," says Toyama, referring to
the gift of jazz music.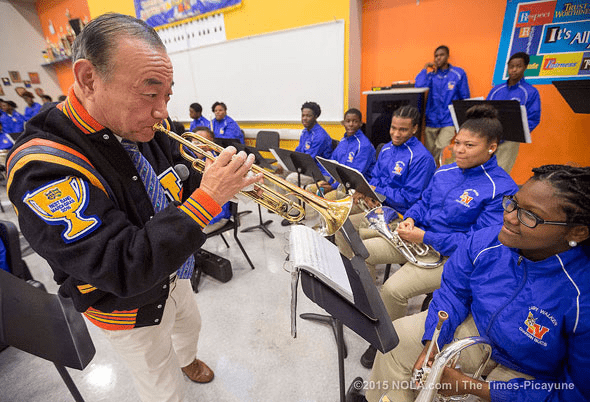 He cites Armstrong's own actions as a direct inspiration for the group's charitable work, recalling documentary footage of Armstrong donating a trumpet to a young boy in Africa as one of the catalysts for the idea.
"When I hand out instruments to kids, I see their eyes shining like … when I watched Louis in the movie," says the musician.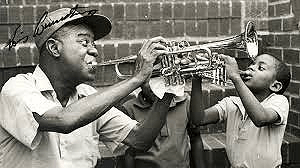 Toyama and the foundation began donating instruments to schools and organizations in the hope that it could deter New Orleans youths from becoming involved in gun violence. He says that the 1992 shooting of a Japanese exchange student in Baton Rouge, a city near New Orleans,
partially inspired this focus.
In 2008, the couple received the key to the city of New Orleans in recognition of their philtrapolic work. Toyama calls the experience "a dream."
In the aftermath of the Great East Japan Earthquake of March 2011, the Toyamas were able to use their skills and longstanding connections to assist students in Kesennuma, Miyagi Prefecture.
Toyama worked quickly to get instruments to the Swing Dolphins, a jazz orchestra for junior high school students in the city. The Toyamas received donations from the Tipitina's Foundation, a nonprofit organisation in New Orleans that had previously received donations from the
Wonderful World Jazz Foundation.
"They said 'This time, we want to help you,'" says Toyama.
He also says the small Japanese instrument company his foundation had worked with for years gave a 50 percent discount toward the Swing Dolphins' instruments.
Things moved quickly. The disaster struck on March 11 and instruments were in the hands of students in Kesennuma on April 12.
"Before the school started operating again, the band's practice started," says Toyama, who notes that the band was then able to help lift the morale of people in the region who had lost their homes.
Toyama later helped organize the New Orleans-Miyagi Youth Jazz Exchange. Through the program, New Orleans high school jazz musicians visited Miyagi Prefecture and performed in 2012. The Swing Dolphins then traveled to New Orleans and performed in 2013.
Last year, Toyama's work was recognized in New Orleans again when he received a Spirit of Satchmo Award at Satchmo SummerFest.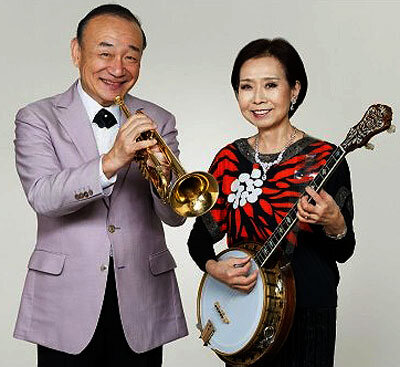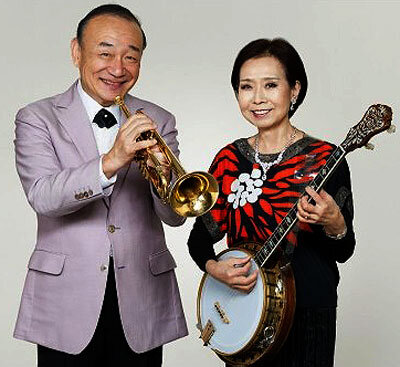 "I didn't know nothing (about it)," says Toyama, who cried when he was surprised on stage with the award. "I think it was the best moment I had ever experienced in my life next to meeting my wife!"
Over the years Jazz&Jazz has been privileged to release a series of posts on the Toyamas and their magnificent contribution to Jazz.
On February 1st, 2016 we published this definitive feature:
The Wonderful World Jazz Foundation
A Massive Contribution to Jazz.
Peter M Butler
Editor & Proprietor Jazz&Jazz
Links to earlier Jazz&Jazz Yoshio & Keiko Features:
Please follow and like us: