Recently I've been asking "Why Jazz&Jazz"? Why spend hours of my time producing Jazz&Jazz when there are a myriad other websites featuring Jazz?

Please take time to read this post and then share your opinions in "Speak Your Mind".
I share my Jazz&Jazz features on Social Media (Facebook, Twitter, Linkedin etc) to draw more followers to the site and add impact to my campaign for jazz. When I launched Jazz&Jazz back in 2010, claims were made that jazz had had its day. Quite the opposite! Right now we are enjoying a remarkable jazz revival. Younger bands are making their mark – followed by increasing numbers of enthusiastic younger fans.
I feature them on Jazz&Jazz because Jazz&Jazz is dedicated to
helping keep jazz
LIVE AND ALIVE.
But as Jazz&Jazz coverage widens and increases in quality as well as quantity, so do costs – travel, photography, filming videos, subscriptions, booking and ticket prices. In earlier days I featured selections of my jazz portraits on Jazz&Jazz, sales of which were intended to help cover expenses. These have been superseded by my Jazz&Jazz YouTubes.

Jazz&Jazz YouTubes
My YouTube Channel operates alongside JazzandJazz.com, dedicated to promoting jazz for Bands, Musicians and Fans.
The overal aim is to:
1. Raise the profile of and develop a sounding board for jazz by inviting bands, musicians and fans to share news and views about the jazz scene.
2. Capture, share and promote the unique ethos of the current jazz revival by featuring the bands, musicians, clubs and festivals involved.
3. Focus on the vitality of younger, emerging stars and on the inexhaustible exuberance of new bands on the jazz circuit.
4. Galvanise jazz fans everywhere to join forces in the jazz revival and especially to warmly welcome young fans to swing along with happy jazz.
To date I have produced 1,180 plus Jazz YouTubes. The vast majority are featured on my
Jazz&Jazz YouTube Site
which has over 1,700 subscribers, increasing by the day. Please take time to explore the YouTubes.
Meantime here is a random selection.
Frog & Henry at The Walnut Tree Jazz Club, Blisworth, touring the UK after their striking success at Fest Jazz, 2018.
A Fest Jazz 2018 Special: New Orleans'
"Shake 'em Up Jazz Band"
The Walnut Tree Jazz Club presents France's Old Chaps Jazz Band.
Jazz&Jazz Portraits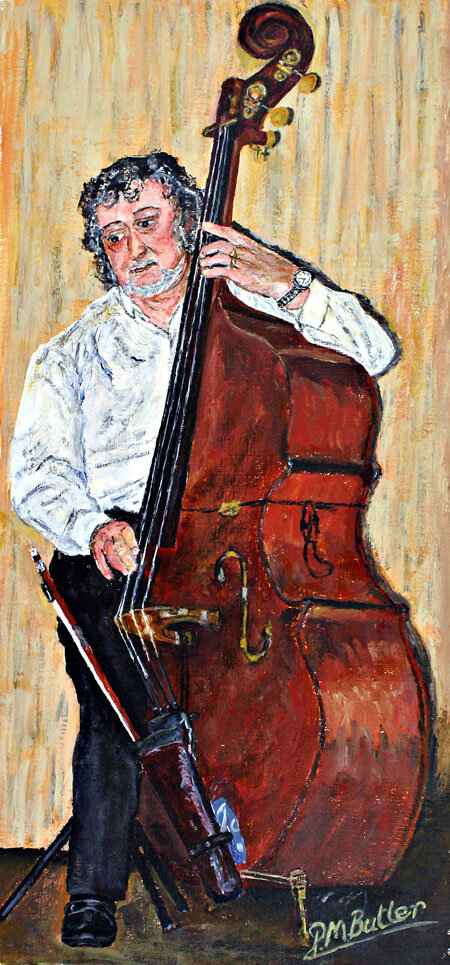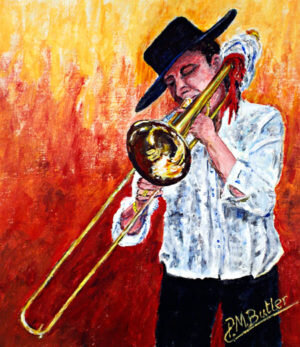 Two of my favourite portraits. Above, Trefor Williams
Left, Christine Woodcock.

Over the years I have painted a series of Jazz Portraits which preceded my YouTubes.
A favourite is my portrait of Trefor Williams, such a close friend sadly recently deceased, who persistently encouraged me to keep painting! http://www.jazzandjazz.com/2011/08/double-bass-ace/
You can find more of my portraits and YouTubes if you delve into:
"Jazz Art & YouTubes & Gripping Yarns."
http://www.jazzandjazz.com/category/jazz-fans/jazz-art-paintings-portraits-youtubes/
FUNDING JAZZ&JAZZ
As Jazz&Jazz coverage increases in quality and quantity so do expenses – travel, photography, software & hardware, videos, subscriptions, booking and ticket prices. Plus wear and Tear!
CONTRIBUTIONS to help cover costs are therefore always hugely appreciated. You can use the Donate button in the column to the right or email: peter@jazzandjazz.com. 

HELP KEEP JAZZ LIVE AND ALIVE!
Funding Requested Announcements
Over the years Jazz&Jazz has received requests from Jazz Clubs, Bands and Musicians for special features and announcements about forthcoming functions. Until now I have happily complied and also shared the Jazz&Jazz features on Social Media. In return I have asked for voluntary contributions towards costs, unfortunately with sparse responses. So as of the release of this post (October, 2019), contributions towards the costs of preparing and sharing such online announcements will be required via the
Donate Button
(top of the column to the right) prior to publication.
Contributions
Full Page Announcement: £80.00
Half Page Announcement: £40.00
Quarter Page Announcement: £25.00
Jazz&Jazz Social Media Links
Jazz&Jazz is represented on Facebook, Linkedin, Twitter and YouTubes.
But rather than comment in Social Media, I urge fans and followers to post their comments here on Jazz&Jazz. Below each post there is there is a section headed "Speak Your Mind" where you can express your views and fellow fans can respond in context. My aim is to to boost such exchanges in the specific context of each post where they will not sink down lists and a welter of comments on posts such as those on Facebook.
Facebook Jazzers Group
https://www.facebook.com/groups/125922830883166/
NB: My Jazzers Group has approaching 1,300 members from around the world. As Administrator I need to spend time every day keeping a watchful eye on and responding to submissions, ensuring they are relevant and in good taste. This can be time consuming.

Linkedin
https://www.linkedin.com/feed/?trk=
Twitter
https://twitter.com/CelebratingJazz
YouTube
https://www.youtube.com/channel/UCbyqlX9cd5D7h2FpXsdS7BQ
Jazz&Jazz Accolades
Tim Wacher recently wrote to me: "I would truly like to endorse all the really excellent and time consuming work you undertake in promoting jazz on your Jazz&Jazz website. I and many others greatly appreciate the long hours of very hard endeavour you carry out in ensuring Jazz&Jazz survives and thrives. You certainly deserve much wide coverage and support. I am enclosing a cheque as a small appreciation of all your wonderful work
and achievement."
Martin Bennett messaged: "Very glad to subscribe to your fundraising. Thoroughly enjoy all Jazz&Jazz has to offer. If I can be in any way helpful
to keep it up and running then count me in!"
Chris Hodgkins stressed: "It's hard rattling the begging bowel for your own activity. Perhaps once you get the ball rolling you could ask for a volunteer. In fact there is no harm in asking for volunteers to do specific tasks."
Surely what's good for The Guardian is good for Jazz&Jazz!
Frequently I stumble across online fundraisers for various organisations and causes. From charities, political parties, and even news media. This from The Guardian Newspaper particularly caught my eye: "We need your support to to keep delivering quality journalism" and "we have a small favour to ask our readers – Support The Guardian from as little as £1 – it only takes a minute. Thank You."
So how about it, followers of Jazz&Jazz and my Facebook, Twitter and Linkedin pages. Just £1 from each and every one of you – or £5 from a significant number of you – would help build a fighting fund for Jazz&Jazz. My Facebook Jazzers Group has a worldwide following of over 1,250 members and my YouTube Channel has over 1,700 subscribers.
In Conclusion
I aim to allocate as much time as possible to filming and producing Jazz&Jazz YouTubes featuring bands and musicians, Jazz Clubs, Festivals, Parades and special events. With Google's support this could lead to a desperately needed source of income to fund my Campaign for Jazz.
Thank you all for your patience. Your support is massively appreciated.
Peter M Butler
Editor, JazzandJazz.com
Please follow and like us: