Key to the increasing popularity of
Jazz&Jazz

Use the Link Below to
Visit the Jazz&Jazz YouTube Channel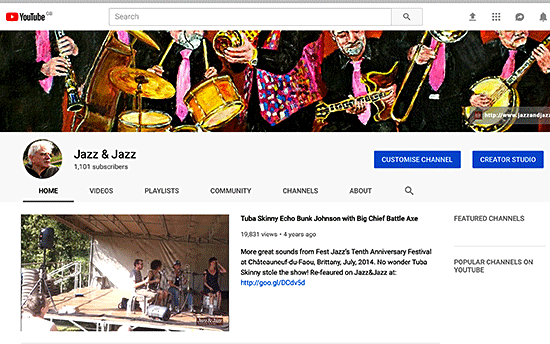 With 1,215 subscribers and in excess of 550,000 views at the time of posting this feature,
Jazz&Jazz YouTubes are key to the Jazz&Jazz campaign for jazz.
With ongoing filming keep posted to Jazz&Jazz for forthcoming features presenting our growing list of Jazz&Jazz YouTubes. Meanwhile as Tuba Skinny feature in the Jazz&Jazz YouTube Masthead, here is their rendition of Bunk Johnson's "Big Chief Battle Axe".
A Vital Appeal
Please make your comments on this feature in "Speak Your Mind" below. The post will be shared on Social Media but comments made there are quickly submerged in the multi-million plethora of
other comments from all and sundry.
Also please consider using the Donate Button in the column to the right. My workload in maintaining this site along with my Social Media pages and YouTube Channel is bearing down on me and I need to explore options. I attempted a Fundraiser recently, the link is: Just £1 a month could work wonders! It raised just £2! Right now I'm reviewing the situation!

Peter M Butler
Editor Jazz&Jazz
(Photos/YouTube © Peter M Butler, Jazz&Jazz)
Please follow and like us: