HOT NEW ORLEANS JAZZ!
Already popular among Jazz&Jazz followers, it's time to give a full feature and hearty welcome to Doolally Tap! Not so long ago, David Lalljee explained to me the origins of Doolally:
"From the town of Deolali, the location of an army base and sanatorium where soldiers leaving India in the late 19th century were sent before leaving for home.
Those who became mentally deranged after contracting a fever, or Tap in Urdu,
were said to have gone Doolally Tap."
A Reassurance!
First, a reassurance. Neither Doolally Tap musicians nor Doolally Tap fans are in the least bit Doolally – even though, professionally, they may seem just a little crazy. Yet after a session with them, there's an ancient saying that could be adjusted: "All the world is doolally, except thee and me, and even thee's a little doolally at times!"
A Breath of Fresh Air!
Crazy or not, Doolally Tap wow audiences everywhere with their uniquely energetic brand of
vintage jazz.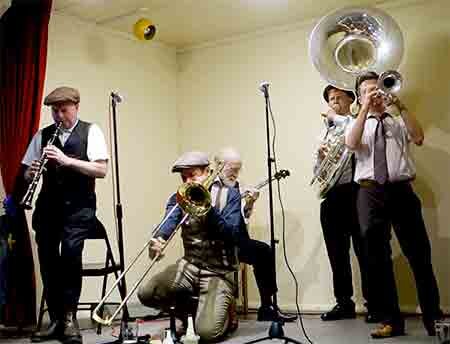 "Originally hatched by ace trombonist David Lalljee and early-jazz nerd/sousaphone player Tom Briers in a dark corner of south-east London, the band's spiritual home is 1920s New Orleans. Drawing inspiration from Crescent City musicians like King Oliver, Louis Armstrong and Sidney Bechet, Doolally Tap's music evokes the true spirit and energy of the prohibition era."
The band features a vintage New Orleans line-up of trombone, trumpet, clarinet, banjo and sousaphone, as well as the "velvety crooning" of trombonist David Lalljee and the brilliantly "gnarled vocals" of banjoist Nick Singer. Nick's passion for jazz stretches way back to his sixty years with the acclaimed Frog Island Jazz Band.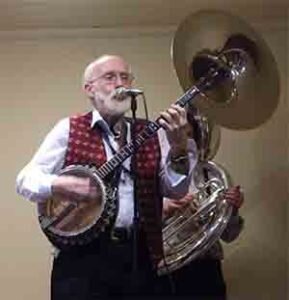 "Doolally Tap's infectious foot-stomping live shows have taken the London vintage scene by storm, quickly establishing them as the band that most accurately evokes the bold, brassy, blues-infused spirit of 1920s New Orleans jazz." (https://doolallytap.net)
Rapport
I first encountered Doolally Tap at Ramsgate Seaside Shuffle Jazz Club and Festivals. And what encounters they have proved to be. Their popularity in South East Kent has seen them welcomed back on several occasions. Their rapport with Shuffle fans is always tops and was especially so with one dedicated jazz fan, my close friend Mike Beale. Sadly, Mike is no longer with us but I treasure my memories of him in deep conversation with David Lalljee at both festivals and club evenings. Well into his 90s and in a wheel chair, assisted by his daughter, he always took his reserved place on the front row.
Doolally Tap YouTubes
Over the months I have filmed several MP4 movies of Doolally Tap for Jazz&Jazz YouTubes and I'm pleased to present the following selection.
Doolally Tap will be starring at The Bedford Golf Club on Thursday, 28th February, courtesy of Tad Newton. Details to be announced here on Jazz&Jazz very soon.
Peter M Butler
Editor Jazz&Jazz
Photos & YouTubes © Peter M Butler, Jazz&Jazz
Please follow and like us: