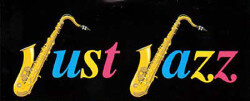 The February issue of Just Jazz Magazine arrived this morning and a cover photo captioned "Dave Bartholomew 100 up!" immediately caught my attention.
So I quickly turned to the article on page 18 – "'I did every god damned thing myself'
The Dave Bartholomew Century" by John Swenson.
Flashback to April 2010 in New Orleans when timely good fortune led me to The Palm Court Jazz Café on Decatur Street to enjoy a wonderful performance by the great man. If only I had been filming for my Jazz&Jazz YouTubes back then. And yet, perhaps better, I painted his portrait.
My original Jazz&Jazz feature included the portrait and a poem and is at
 "Celebrating Dave Bartholomew"
Thank you Just Jazz Magazine for bringing back such never to be forgotten memories!
Peter M Butler
Moderator Jazz&Jazz
Portrait & Photos © Peter M Butler, Jazz&Jazz
Please follow and like us: