8.00pm Tuesday 5th February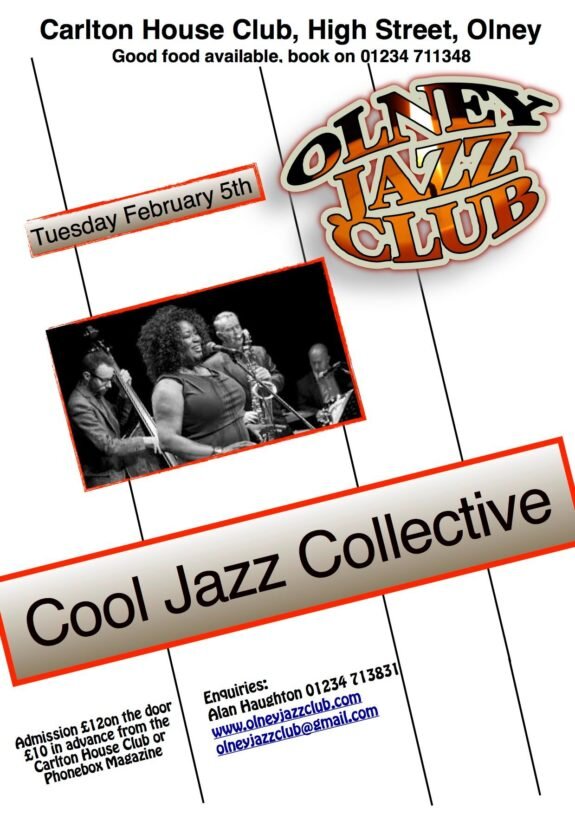 Cool Jazz Collective features the smooth, mellow vocals of Elaine Hatton and Neil Riche's delicate touch on the keys. Elaine combines her love of songs from the musicals, pop classics, and of course Jazz with Neil's sublime rendering of obscure jazz standards along with latin and modern jazz, to create the perfect combination. At the core, Neil's airtight arrangements celebrate the original with a sprinkling of the contemporary.
On Tuesday February 5th Elaine and Neil are expertly supported by Chris Green, Double Bass;
Steve Hamper, Drums; and Richard Exall, Saxophone.
A sneak preview filmed at The Lansdowne Club
Best Book Early!
Tickets £12 or £10 in advance from Carlton House Club, High St, Olney, MK46 4BB
Tel 01234 711348 to reserve tickets and book meals or from
Phonebox magazine, Stanley Court, Olney
Look forward to seeing you there.
Cheers,
Alan
(Alan Haughton – Organiser)
Jazz&Jazz is grateful to Olney Jazz Club for their reciprocal support.
Please follow and like us: