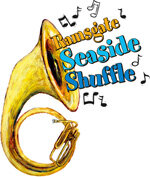 Filmed on one of those 2018 sweltering hot Summer days at the Ramsgate Seaside Shuffle Festival, July 2018, with best efforts made to zoom in on the second line musicians. 
"The Second Line" is based on a New Orleans brass band parade tradition. The "main line" or "first line" forms the main section of the parade. Those who follow the band to enjoy the music are called the "second line". Just as well Napier Jazz Band were on stage in the Small Boat Owners Club and not marching in the full blast of the July sunshine.
Peter M Butler
Editor Jazz&Jazz
(Photos & YouTubes © Peter M Butler, Jazz&Jazz)
Jazz&Jazz is grateful to Ramsgate Seaside Shuffle for their reciprocal support.
Please follow and like us: