Tad Newton's Jazzfriends along with Celebrity Guest Stars put on quite a show to celebrate 35 years of his Sunday Lunchtime Jazz Sessions: 1983-2018!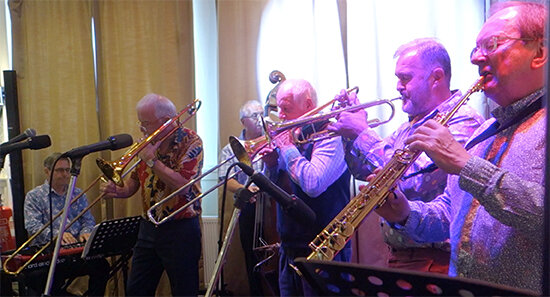 What better way to mark the occasion than with footage filmed at The Walnut Tree Jazz Club on the day. But first, a YouTube of The Jazzfriends' at Fest Jazz 2018 in Brittany, where they were acclaimed joint second favourite band.
Falling, Tad? Far from it. You negotiated that footpath at Fest Jazz just as you've negotiated the challenges of jazz over the years to keep it live and alive. Thanks, Tad, for all you have done and continue to do for jazz!
Featured and filmed for YouTubes during the Celebrations
The Jazz Friends
Tad Newton … trombone / vocals
Gary Wood … trumpet / vocals
Tomas Pedersen … double bass
Alan Haughton … piano
Ronnie Fenn … drums
Mike Wills … clarinet/alto sax/tenor sax/soprano sax
Celebrity Guests Stars
Dave Browning … exciting Harlem stride piano star!
Roy Williams … jazz trombonistextrodinair!
Trevor Whiting … superb clarinet/sax
The Richard Exall/Amy Roberts Quintet
The Jazz&Jazz YouTubes
(In no particular order)
Peter M Butler
Editor Jazz&Jazz
(Photos & YouTubes © Peter M Butler, Jazz&Jazz)
Please follow and like us: