8.00pm Tuesday 4th September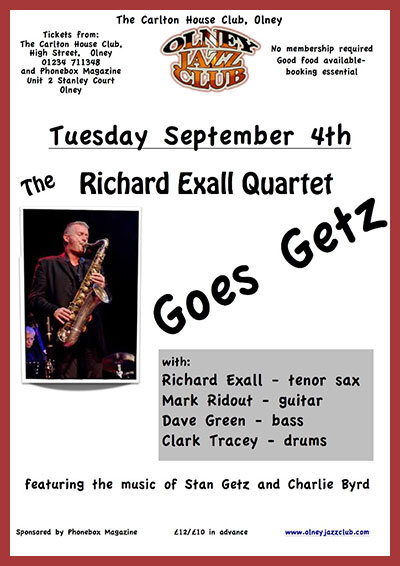 Jazz Samba….the iconic album by tenor saxophonist Stan Getz and guitarist Charlie Byrd became a world-wide sensation in 1962.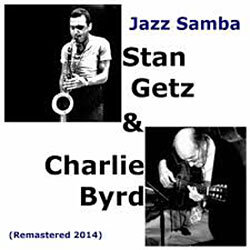 The music was inspired by the new sound  of the bossa nova, which Charlie Byrd had only recently discovered whilst on a tour of Brazil in 1961.The Richard Exall Quartet brings together some of the UK's finest exponents of the genre to bring the sounds of Stan Getz and Charlie Byrd back to life.
The varied and exciting program also consists of favourites from GETZ AU GO GO and THE COOL SOUND OF STAN GETZ, making the most of Stan Getz's reputation for the beautiful ballads and rip-roaring swing standards for which he was famous.
Tickets £10 in advance or £12 on the door from
Carlton House Club tel 01234 711348
(you could book a table to dine – two main courses for £12)
or from Phonebox Magazine, Stanley Court, Olney
Coming soon:
Tuesday October 2nd 8.00pm – Jazz Colossus Big Band …
tickets now on sale from Carlton House Club tel 01234 711348
and Phonebox magazine
Check it all out on www.olneyjazzclub.com
Hope to see you at an OJC gig soon,
Cheers, Alan
(Alan Haughton – Organiser)
Sponsored by Phonebox magazine
Please follow and like us: