Tony Rico, saxophone, Paul Bonner, trumpet and Ben Martyn, bass and vocals, coming up trumps at
The Fallen Heroes' April, 2009, "Jazz in the Barn" concert in
Throwley, Faversham, Kent.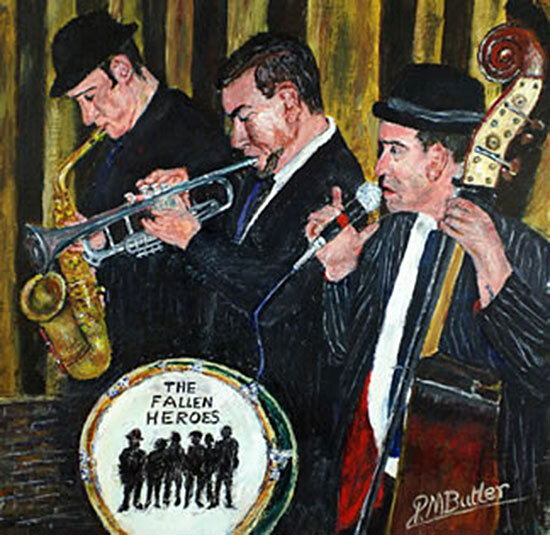 Sax, Trumpet and Bass
Rico, Bonner and Ben,
Fallen Heroes' men,
Setting the pace,
As the Heroes reach for the sky!
This painting dates back to 2009, not long after my reintroduction to Jazz when, as an amateur artist, I was inspired to switch from landscapes and seascapes to jazz portraits, and in more recent years to filming jazz for YouTubes. I am so glad I joined Paul Bonner for a chat during the interval in the cool of that evening because just a short time later I was saddened to hear
that he had passed away in January, 2010.
It is even sadder to add that two of my closest, lifelong friends, also jazz fans, who were with me at Throwley that night have also recently passed away.
Tony Rico now plays with Dom Pipkin & The Ikos. Ben still plays alongside his brother Emile with The Fallen Heroes.
Peter M Butler
Editor & Proprietor Jazz&Jazz
Please follow and like us: