Venues include The Small Boat Owners' Club,

The Royal Victoria Pavilion, and

The Seaman's Church!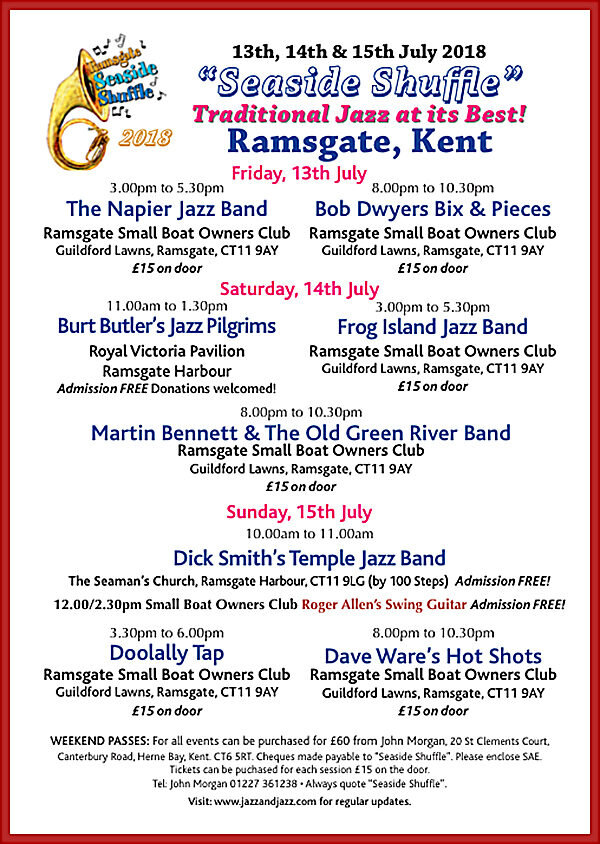 Invited back by popular demand, last year's Festival Favourites, Doolally Tap.
With special introductions for Nick Singer (banjo specialist with Frog Island) and
Titch Walker on trumpet (5'4″ actually)!
David Lalljee – Band Leader/Trombone/Vocals
Titch Walker – Trumpet/Vocals
John O'Neill – Clarinet/Soprano Sax/Vocals
Nick Singer – Banjo/Vocals
Tom Briers – Sousaphone
Martin Bennett's wonderful tribute to my lifelong friend Roger Pout, a founding member of Ramsgate Seaside Shuffle.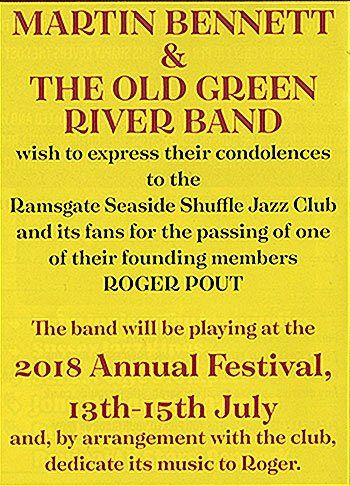 Peter M Butler
Editor: Jazz&Jazz
(Photos & YouTubes © Peter M Butler, Jazz&Jazz)
BOOK BY POST:
£60 per person, cheques payable to Ramsgate Seaside Shuffle, enclose SAE to:
John H Morgan, 20 St Clements Court, Canterbury Road, Herne Bay, Kent. CT6 5RT.
Tickets can be purchased for each session: £15 on the door.
ENQUIRES: John Morgan 01227 361238
Always quote: "Seaside Shuffle"
Visit: www.jazzandjazz.com for regular updates
Please follow and like us: