Music from the Streets of New Orleans
Comes to 

Morecambe Bay

Featuring
THE FROG & HENRY JAZZ TRIO
Wednesday 14th February, 2018, 7.30-10.30pm
The Three that can play as Seven!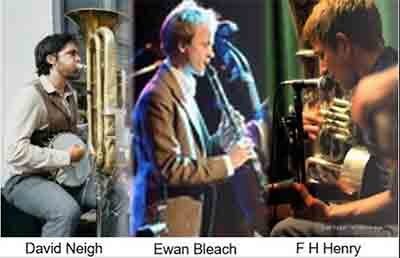 'Frog' Henry (New Orleans) – Fotdella Bass Machine, Cymbals,
Stringed Instruments, Harmonica & Vocals
Dave Neigh (Belgium) – Tuba Machine, Banjo/Guitar
Ewan Bleach (London) – Clarinet, Saxes, Keyboard
Frog & Henry perform and record old dance and jazz music from the early
1900's on unique foot-operated bass instruments, strings and reeds.
Most of their repertoire was obtained by digging up forgotten songs from the
dawn of recorded music, in the form of early dance tunes, and from even earlier
19th century sheet music.
The Concert Room, Jubilee Social Club,
Torrisholme, Morecambe LA4 6NZ
TICKETS can be purchased at the bar in the club
or contact Norman Gibson Tel. 01524-855770: e-mail jazz2swing2@gmail.com
£9.00 Adv. (£10.00 on Door)
Frog & Henry Trio's North of England Mini-Tour includes:
Kendall Jazz Club: Tuesday, 13th February
Carlisle Jazz Club: Thursday, 15th February
Peter M Butler
Editor & Proprietor Jazz&Jazz
(Courtesy of Norman Gibson)
Please follow and like us: