Assisted by Phil, Len proudly presents his portrait painted by Alan Bateman …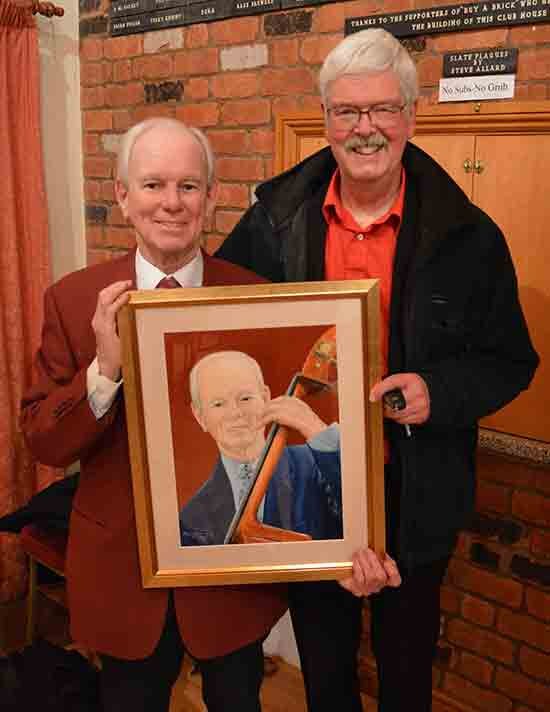 Phil Probert emailed me on 18th December.
Dear Peter,
As you featured on Jazz&Jazz in October, last night at Malvern was the end of over 22 years under the leadership of Len and Betty Thwaites. Appropriately enough, Len actually had to dep for Malcolm Sked, performing with Spats Langham's Hot Fingers, so he bowed out with a flourish!
Of course, Len's not retiring from playing, just from running the club. We hope and expect that now he doesn't have management worries, he'll be able to spend more time practising. (Sorry, Betty!)
In the photo above, you can see Len's leaving present – his portrait painted by Alan Bateman. We had a great turnout to see the fun.
We're all set up for the opening gigs of 2018, and we've had a number of interesting approaches from musicians in both UK and Europe. At the moment, I've still got my hair – hope I still have it after the first year!
Phil Probert
Jazz&Jazz sends very best wishes to Len and Betty in their "retirement" and to Phil in taking over the baton.
Peter M Butler
Editor & Proprietor Jazz&Jazz
Please follow and like us: