The Walnut Tree,
STATION ROAD, BLISWORTH, NORTHANTS, NN7 3DS
12.00-2.30pm  Sunday, 5th November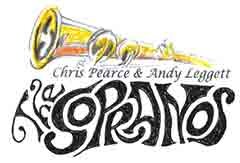 Featuring Chris Pearce, Andy Leggett, Dave Deakin, Tony Sharp,
Roger Wells and Phil Probert
The Sopranos is an exciting six piece jazz band, formed in 2015 by reeds men Chris Pearce and Andy Leggett, playing a wide variety of swinging jazz with influences ranging from New Orleans, to Arlo Guthrie, via Sydney Bechet, Johnny Dodds and Jimmy Noone.
Jazz&Jazz advice to Walnut Tree Punters – These guys are red hot!
So forget Fawkes! Be there!
Peter M Butler
Editor & Proprietor Jazz&Jazz
Please follow and like us: