Olney Jazz Club proudly presents America's foremost swing clarinettist Ken Peplowski
with the UK's renowned clarinet maestro Julian Marc Stringle.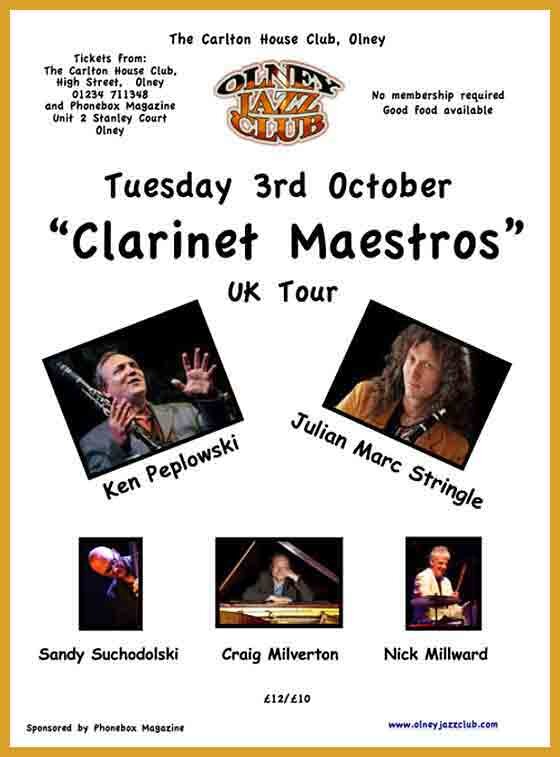 As a young man Ken Peplowski was heavily influenced by Artie Shaw and Benny Goodman. Ken had the honour to join Benny Goodman's last big band on tenor saxophone at the age of 18. Julian has now made two albums with Ken. Their contrasting styles on clarinet blend perfectly. The duo are backed by an outstanding rhythm section comprising pianist Craig Milverton together with Sandy Suchdolski on bass
and Nick Milward on drums.
Step into a fiery atmosphere of world class musicians in the wonderful setting of Olney Jazz Club at the Carlton House Club, High St, Olney MK46 4BB
Tickets are selling quickly at £12 or £10 in advance from Phonebox Magazine, Stanley Court, Olney or from the Carlton House Club, High St, Olney, MK46 5ET tel 01234 711348 to reserve tickets.
Advance Notice
Tuesday November 7th – Tad Newton's Jazz Friends with special guest, over from the U.S. on tour,
top saxman Greg Abate.
Tuesday December 5th – The Bateman Brothers Jazz Band
Check it all out at www.olneyjazzclub.com
Hope to see you at OJC soon,
Alan Haughton
Please follow and like us: