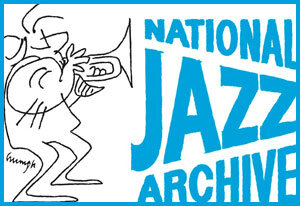 Welcome to our July 2017 Newsletter

Welcome also to the 90 new subscribers who signed up to receive
the NJA newsletter at the Love Supreme festival at the beginning of July.
We hope you enjoyed our display and that you will continue to follow
activities and developments at the Archive through these newsletters.
••• ••• •••

Trio Manouche
"a brilliant event"
We can do no better than quote from an email received after the fundraising concert on 24 June:
"Very many thanks to you and your colleagues for a wonderful Saturday afternoon's entertainment. What a brilliant trio. Also a fantastic guest trumpeter (Pete Horsfall) – who played the most amazing trumpet which fitted perfectly with the Trio Manouche. He certainly
is a talented trumpeter and we enjoyed everything he did.
We all loved the guitars and bass. It was such a treat to see their fingerwork close-up and to feel almost part of the music. We could not think of enough superlatives to describe that delicious
trio and the interplay within the trio and with their guest. My favourite is still I'll see you in my dreams – beautifully sung and played. What a way to spend a Saturday afternoon!
Please pass our thanks to everyone who worked so hard to make it such a brilliant event."
Download photos of the concert here.
••• ••• •••

Clare Teal plays Loughton
Clare Teal is bringing her trio to Loughton on Thursday 14 September to play a
fundraising gig for the Archive. On the night, Clare's trio will feature Jason Rebello on piano,
Tom Farmer on bass and Ben Reynolds on drums.
Clare told us: "As a patron and long-time admirer of the National Jazz Archive, I'm delighted
to support their great work of collecting and preserving the history of jazz, and making it accessible for all, by bringing my trio to play this concert."
The concert starts at 7.45pm and is at Loughton Methodist Church, close to the Archive's home.
Here, Clare explains to Strictly Come Dancing's Len Goodman what it means to swing!
••• ••• •••

The Godfather of British Jazz
Stan Tracey
To celebrate what would have been his father's 90th year, Clark Tracey has written the
definitive biography of Stan and will be playing a fundraising gig for the Archive on Friday 24 November as part of the book's launch. With Clark will be a great trio of Art Themen,
Bruce Boardman and Andrew Cleyndert. The evening will feature Stan's music and
well-known jazz standards.
The concert will be at Mirth, Marvel and Maud, 186 Hoe St, Walthamstow, London E17 4QH – a venue with an amazing jazz pedigree, with appearances in the 1950s and 60s by Duke Ellington, Count Basie, Dizzy Gillespie, John Coltrane, JJ Johnson and Kai Winding. The venue is fully licensed, offers excellent food and features a cocktail bar. Why not make a night of it? For
bookings for dining phone 020 8520 8636.
Clark was interviewed at the UK National Drum Fair in 2013.

••• ••• •••

National Youth Jazz Collective 10th birthday festival
Congratulations to the National Youth Jazz Collective on their 10th birthday! To celebrate the occasion, there will be a full day of activities at Kings Place, London on 12 August, with something for everyone, from morning workshops for young people, to foyer performances, an exhibition from the National Jazz Archive of 100 years of British Jazz, NYJC's pinnacle end-of-summer school concert and an all-star concert in the evening led by NYJC's president Dave Holland and vice president Julian Joseph – it's a one-off spectacular to warm the heart and thrill the musical mind.
Read more.
••• ••• •••

Love Supreme
The National Jazz Archive got back from Love Supreme festival in Sussex in one piece! To all our visitors, thank you for spending time with us – we hope you enjoyed your visit.  Over 90 people signed up for our monthly e-Newsletter.
The Archive team had a great time at the jazz-infused festival. The sun shone on all the musicians and fans without a break. We can confirm that a good time was had by all.
••• ••• •••


Being Thelonious
A wide ranging symposium about Thelonious Monk took place at Birmingham City University
in June. The keynote speaker was Robin DG Kelley, author of the definitive biography of Monk (Thelonious Monk: the life and times of an American original. Free Press, 2009), with other presentations from New York guitarist and Monk expert Steve Cardenas, Hans Koller, Pedro Cravinho, and Sid Peacock. The Archive's panels featuring the centenaries of Monk, and of
Dizzy Gillespie and Ella Fitzgerald were on display.
The photo shows Robin Kelley (centre) with NJA trustees Nick Clarke (left) and Pedro Cravinho.
••• ••• •••

Thank you – recent donations to the Archive
We are most grateful for the many books, journals, photos and other materials that have been donated to the Archive in recent months. Here is a full listing.
••• ••• •••

Gems from the Archive – Victor Feldman
This month we feature pianist, vibraphonist and percussionist Victor Feldman, who was born in London in 1934. Les Tomkins' interviews with him for Crescendo magazine in 1965 and 1971 can be read on the Archive website here and here.
Tubby Hayes wrote in Crescendo in August 1965 here about his fourth visit to the States, and
his pleasure at playing with Victor's trio in Los Angeles.
Victor started playing professionally as a child but became best known as a pianist playing and recording with Ronnie Scott and many other groups before he moved to the US in 1955. In the
US he worked with Woody Herman, and recorded with many jazz artists, including Benny Goodman, George Shearing, Cannonball Adderley and Miles Davis, most notably on
Davis' 1963 album
Seven Steps to Heaven, the title tune being his own composition.
Jazz News magazine featured a 'Souvenir photograph' on its back page. This one is from 10 December 1960, and shows Victor Feldman flanked by Cannonball and Nat Adderley (left), and Sam Jones and Louis Hayes (right). You can read the whole issue on the Archive website here.
Victor often returned to the UK and appeared at Ronnie Scott's Club. Listen to Victor with
Ronnie on BBC Jazz 625 playing Summer Love in June 1965 here.
His skilful vibes playing is illustrated here.
In 1957 Feldman settled in Los Angeles, specialising in session work, and playing with numerous musicians outside jazz. He died in 1987 aged 53, following a heart attack.
••• ••• •••

'Glarnies, green berets & goons' – can you help?
Julie Warren is writing a biography of Larry Stephens – commando, jazz pianist, and writer for Tony Hancock and the Goon Show. Using unrivalled access to Stephens' personal archive of letters, photographs and artwork, plus interviews with his friends, family, comrades and colleagues, Glarnies, Green Berets & Goons will tell the story of a boy from the Black Country whose short life had such an enduring impact.
Watch Julie's video introducing Larry Stephens here, and find out how you can support her project.
••• ••• •••

How you can help the National Jazz Archive
The most enjoyable way to support the Archive is to come to our fundraising concerts, and bring your friends! Tell them about the concerts by Clare Teal on 14 September and Clark Tracey on
24 November, and have a great evening together.
You can directly support the Archive in a variety of ways – read more here.
And you can forward this e-newsletter to your jazz-loving friends and encourage them to sign up
to receive their own free copy here.
••• ••• •••
The National Jazz Archive was founded by trumpeter Digby Fairweather in 1988 and is supported by Essex County Council and the Heritage Lottery Fund.
Copyright © 2017 National Jazz Archive, All rights reserved.
You are receiving this email as you have asked the National Jazz Archive to keep you up to date with our work through signing up on our website, completing a feedback form or leaving us your email address.
Our mailing address is:
National Jazz Archive
Loughton Library
Traps Hill
Loughton, IG10 1HD
United Kingdom
unsubscribe from this list    update subscription preferences
Please follow and like us: