First on stage at this years Ramsgate Seaside Shuffle Festival was Dick Smith's Temple Jazz Band. Not in The Small Boat Owners Club but in Andy Barrett's Belgian Cafe. A great venue opposite the promenade where construction works prevented
the usual seafront brolly parade.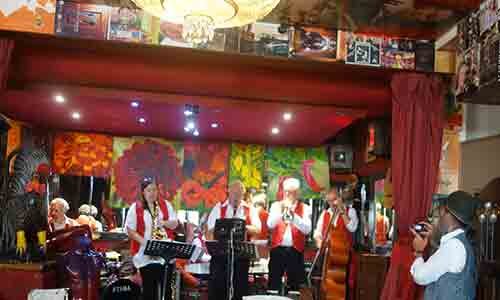 Seated in prime positions in front of the Belgian Cafe stage, fans enjoyed great jazz along with meals from the superb Belgian Cafe menu. Watch out for two amusing incidents worth mentioning. First when the stage lights fused but, titanically the band kept playing. Second when I swerved the lens to capture Andy filming his own videos of the band. Thank you, Andy, for supporting Seaside Shuffle and Dick for a great introductory session to the festival.
Enjoy The YouTubes
Sadly circumstances permitted only a very brief snatch of the hidden pianist!
Peter M Butler
Editor & Proprietor Jazz&Jazz
(Photos & YouTubes © Peter M Butler, Jazz&Jazz)
Please follow and like us: