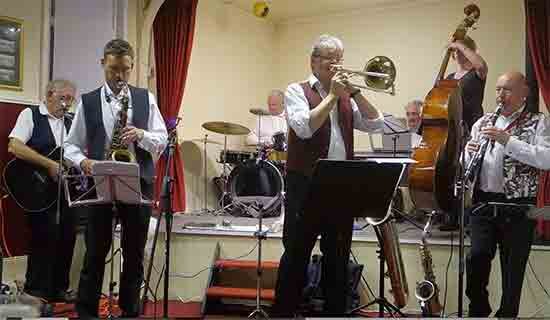 Humour, fun, repartee and of course, great jazz marked the The Culrose Seven's opening session of the 2017 Ramsgate Seaside Shuffle Festival on Friday, 14th July.
The Colrose Seven are: Pete Rose (clt); Bill Jones (clt); Tom Clarke (sax); Ray Perkins (pno); Colin Hodges (bjo); Lisa Pentecost (bass); Jimmy Tagford (dms).
It was great to see and film the two younger members in the band – Tom on sax and Lisa on bass. Colin introduced Tom by announcing that he has appeared several times at Canterbury
Magistrates court. He works there!
Huge apologies to Colin for missing his vocal duet with Lisa Pentecost. Given the increasing acceptance and popularity of my Jazz&Jazz YouTubes, I believe the time has come for me to
consult band leaders on the numbers they intend to play to avoid missing special features.
After all, if I filmed entire performances I wouldn't be able to sit back, relax and enjoy
the jazz. So lesson taken on board, Colin.
Peter M Butler
Editor & Proprietor Jazz&Jazz
(Photos & YouTubes © Peter M Butler, Jazz&Jazz)
Please follow and like us: