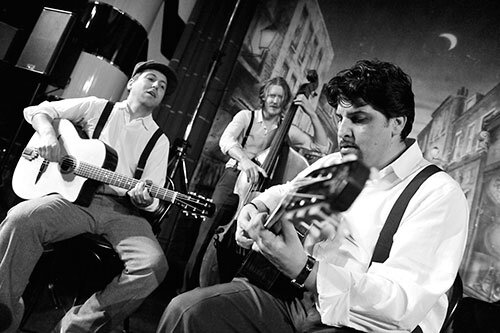 Gypsy jazz comes to Loughton!
Gypsy jazz group Trio Manouche, with Quentin Collins on trumpet, play a
fund-raising concert for the National Jazz Archive on Saturday 24 June in Loughton, Essex. 
Founded by guitarist Simon Harris, Trio Manouche is a world-class gypsy jazz ensemble playing classic tunes of 'Hot Club of France' legends, Django Reinhardt and Stéphane Grappelli, plus Simon's upbeat originals. The Trio features two of the UK's finest exponents of gypsy swing jazz, Ducato Piotrowski on acoustic guitar and Mark Lewandowski on bass, and is joined by one of Europe's top jazz trumpet players, Quentin Collins.
This concert is one of a series during 2017 to raise funds to support the work of the Loughton-based National Jazz Archive.
Simon said: "It's places like the National Jazz Archive that are the perfect learning tool to educate musicians like ourselves about the rich involvement of this country in the history of jazz music".
The venue for the concert is Loughton Methodist Church, 260 High Road, Loughton, Essex IG10 1RB, close to the Archive's home in Loughton Library, where there is extensive parking, 1 km from Loughton Station on the Central Line, and served by numerous bus routes.
The concert starts at 2.30pm and tickets cost £15.
For details and to book tickets, visit www.nationaljazzarchive.org.uk/events,
email events@nationaljazzarchive.org.uk or phone 020 8502 4701. 
For media enquiries contact:
Nick Clarke 020 8502 4701
enquiries@nationaljazzarchive.org.uk
National Jazz Archive, Loughton Library, Traps Hill, Loughton, Essex IG10 1HD
www.nationaljazzarchive.org.uk
www.facebook.com/nationaljazzarchive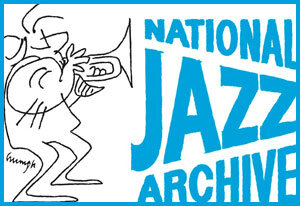 Please follow and like us: