Broadreach Records are excited to announce the launch of the
2017 Herne Bay Jazz & Swing Fest
Sunday, 13th August, 4.00 til 9.00pm
At the Herne Bay Pier Stage.
With a fantastic lineup of some of the UK's hottest jazz and swing musicians,
Herne Bay Jazz & Swing Fest is gearing up to be a real asset to this beautiful seaside community.
With not one but two headliners, trumpet player extraordinaire Digby Fairweather and the brilliantly expressive guitarist Jim Mullen each performing evening sets, the afternoon will also heat up with
sets by splendid saxophonist Paul Booth, versatile vocalist Kai Hoffman and
rising star pianist Liam Dunachie.
Set on the newly refurbished Herne Bay Pier, this will be a jazz fest like none other, with the best views of the seaside you can get! Shows start at 4pm and finish around 9pm. Entry is free before 6pm, and just £5 afterwards. The pier restaurants and micro pub will be open for meals and drinks.
For the full programme, musician bios and to book tickets please contact: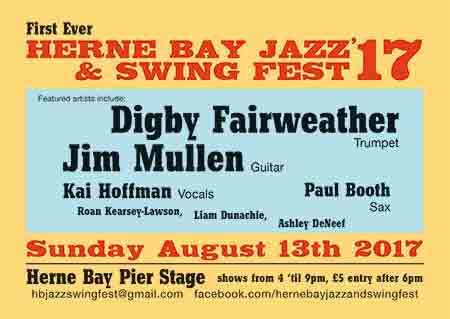 Kai sings Duke Ellington's "Caravan"
A clip of trumpeter Digby Fairweather who features annually with the Jazz Marching Band for the prestigious Covent Garden Annual Rent Collecting Ceremony.
Peter M Butler
Editor & Proprietor Jazz&Jazz
Don't wait – email now:
hbjazzswingfest@gmail.com
Tel. 07793 611231
Please follow and like us: