Announcing a Special Session!

The New Town House Jazz Club

Cheshunt & Waltham Cross Conservative Club,
33/35 Eleanor Cross Rd, EN8 7LF 
Featuring some of the finest exponents of Dixieland/Trad Jazz in this country, "plus Barry Palser" (his own words!)
"If you like the best in the business don't miss this. You will not be disappointed!"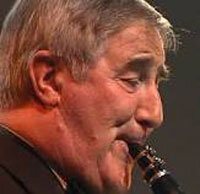 John Crocker – Reeds and vocals 
John spent 35 years on the road with the various Chris Barber bands. Barry first met him in Cyprus in 1956 when they were both doing their National Service. On returning to Blighty John was soon getting in to the local jazz scene and notably played with the Dauphin Street Six led by Len Baldwin (trom) who got mentioned in a publication entitled "Trad". He was soon snapped up by Chris Barber, a really big name on the circuit and stayed with him until health problems made it almost impossible to keep up the strenuous schedule which accompanies stardom. Very popular then and now.
Gary Wood – Trumpet and Vocals
Barry's trumpet player for this gig is also very popular and runs his own band. "I'm lucky to be able to get Gary as his diary is pretty full. Currently a member of Tad Newton's Jazzfriends, he also plays with an interesting group called Lost Latinos. He studied music at college then decided to go semi-pro, boosting his income playing the music he loves. A great trumpeter and good singer.
Jim Douglas – Banjo and Guitar
Brilliant jazz guitarist, banjoist and author born in Gifford, East Lothian, Scotland, Jim is best known for his work with the Alex Welsh band between 1962 and 1981. He played alongside Henry 'Red' Allen, Earl Hines, and Ruby Braff.  Years later, Jim wrote and self-published a semi-autobiographical book, "Tunes, Tours and Travel-itis: Eighteen years of Facts, Faces and Fun with the Alex Welsh Band". In the book he cites several humorous encounters with legends of the business, as well as recounting the band's many strange and bizarre "misadventures". The book went on sale in October 2013.  Following its success Jim has penned a second book, also very revealing, called "Teenage to Travel-itis".  On sale now!
Alan Morgan – Bass 
Another fine musician who has graced the stage with many famous jazz musicians including: Humphrey Lyttelton , Tubby Hayes, Cy Laurie, Diz Dizley, Joe Pass, Ronnie Verell and, of course, Barry Palser's Super Six! Alan is credited with designing an amplifier specifically for bass players which won a "Queens Award". He moved his business to Hollywood where he lived in 'Hidden Hills' (close to Beverly Hills) among the film star fraternity. Sadly a powerful earthquake destroyed his company and his dreams and he and his family returned to Essex where he now makes a fortune playing jazz!!
Paul Norman – Drums 
Like the other members of the band, Paul has played at the Town House Jazz Club before so you will recognise him. He has appeared in numerous films and TV programmes as an 'extra'. He gets regular work in the acting business and has rubbed shoulders with many top stars. A good driving drummer and regular member of Bill Phelan's Muskrat Ramblers. I'm delighted he could make it for this gig.
Contact Barry Palser at: barry.palser@uwclub.net
Please follow and like us: