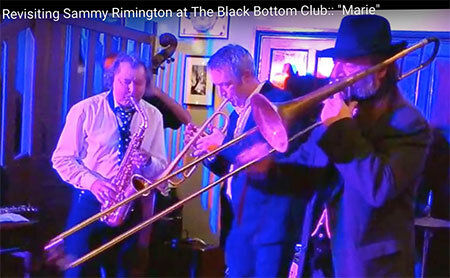 Whenever I can find the time, I enjoy delving into and even relaunching my earlier Jazz&Jazz YouTubes. This one is very special. A flashback to Sammy at The Black Bottom Club in Northampton on 15th March, 2014.
Special because when Sammy and Louise saw me arrive, Louise asked me if I would like to join her table front of stage. Politely I declined because I wanted to move around and film some of the numbers. But I will not forget that hospitality.
It wasn't easy filming at The Black Bottom Club because that's how it tends to be, darkish if not "black", with dimmed lighting. So I've re-edited this version of one of the YouTubes I filmed on the night to compensate – resulting in a rather psychedelic but not unpleasing effect. Mike Owen had just returned to the UK.
I hope you enjoy it.
Peter M Butler
Editor & Proprietor Jazz&Jazz
(Photos & YouTubes © Peter M Butler, Jazz&Jazz)
PS I've just heard from a reliable source that Sammy has abandoned touring the UK with his full band and will perform with a trio this year.
Please follow and like us: