Jazz&Jazz Values NJA Permission to share their Monthly Newsletter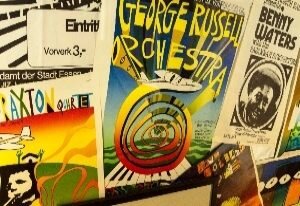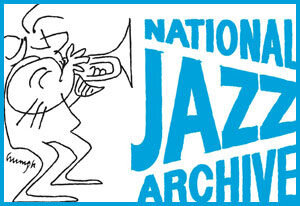 Welcome to over 130 new subscribers, who signed up to receive the NJA Newsletter at Cheltenham Jazz Festival.  We hope you enjoyed our display and will continue to follow activities and developments at the Archive through these newsletters.
Apologies to regular readers who missed our April mailing – as you will see from this issue, Archive staff and volunteers are exceptionally busy and preparation of the newsletter has been delayed, so this is a bumper issue to make up!
Listening to jazz in the digital age

Saturday 13th May
NJA Patron and award-winning author Stuart Nicholson will explore how we listen to music in general, and jazz in particular, in the new digital world, and how new technology is changing the experience. Stuart is an award-winning music journalist and author who has written seven books on jazz which have been translated into 13 languages.
His talk will be in the Archive in Loughton Library, beginning at 2.30pm. Tickets cost £5, from 020 8502 4701 or on the door. Read more!
The photo of Stuart Nicholson is by Jan Granlie.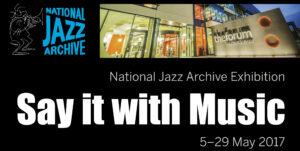 Say it with Music – celebrate the people and places that have shaped jazz
The NJA exhibition 'Say it with Music' is now open at The Forum Southend until 29 May. It is the culmination of the Archive's Intergenerational Jazz Reminiscence Project, funded by
the Heritage Lottery Fund.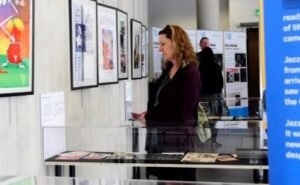 Explore how different generations have promoted, performed, supported, and documented our jazz heritage.
Relate interviews and memories recorded throughout the project to your own experience of discovering music.
Discover original photos, posters and magazines from the Archive.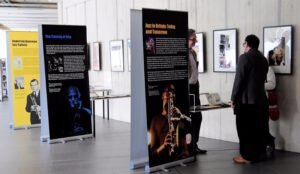 The exhibition runs till 29 May 2017 at The Forum Southend, Elmer Square, Southend-on-Sea, Essex SS1 1NS. It is open Monday to Friday (8am to 10pm), Saturday (8am to 6pm) and Sunday (11am to 5pm). Entry is free.
Gypsy jazz comes to Loughton
Gypsy jazz group Trio Manouche, with Quentin Collins on trumpet, play a fund-raising concert for the Archive on Saturday 24 June in Loughton, Essex.
Founded by guitarist Simon Harris, Trio Manouche is a world-class gypsy jazz ensemble playing classic tunes of 'Hot Club of France' legends, Django Reinhardt and Stéphane Grappelli, plus Simon's upbeat originals. The Trio features two of the UK's finest exponents of gypsy swing jazz, Ducato Piotrowski on acoustic guitar and Mark Lewandowski on bass, and is joined by one of Europe's top jazz trumpet players, Quentin Collins.
Simon said: "It's places like the National Jazz Archive that are the perfect learning tool to educate musicians like ourselves about the rich involvement of this country in the
history of jazz music".
Trio Manouche – Fall in love with swing
The venue for the concert is Loughton Methodist Church, 260 High Road, Loughton, Essex IG10 1RB. The concert starts at 2.30pm and tickets cost £15.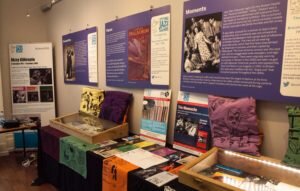 Celebrating 100 years of jazz at Cheltenham
The Archive staged a display in the wonderful Parabola Arts Centre during the Cheltenham Jazz Festival at the end of April, featuring a range of items from our collections, including banners celebrating the centenaries of Dizzy Gillespie, Ella Fitzgerald and Thelonious Monk, and 50 years since the passing of John Coltrane.  We also showcased the fabrics and designs by charity Fashion Awareness Direct celebrating black British jazz and inspired by material in the Archive, and featured jazz photographs by Brian O'Connor and our partner Heritage Images.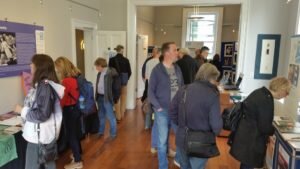 We enjoyed spreading the word about the Archive and also got to hear some great jazz! Many thanks to the Festival organisers for inviting us.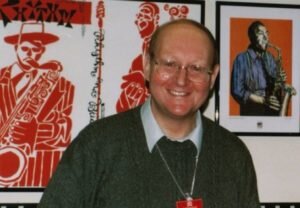 David Nathan – 20 years at the NJA
This month sees the 20th anniversary of David Nathan joining the NJA as our research archivist, employed by Essex County Council. Anyone visiting or contacting the Archive will know how extraordinarily helpful David is in answering queries, tracking down hard-to-find material, and drawing on his own encyclopaedic knowledge of jazz. He also acts as genial host and master of ceremonies at many of our concerts and public events.
Thanks and best wishes to David for his great contribution to the Archive over the years.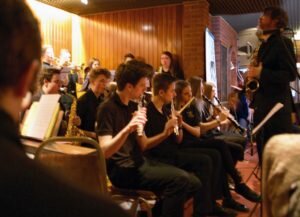 Intergenerational Jazz Reminiscence project update
The latest blog from our project archivist Layla Fedyk, with contributions from two of the project volunteers, can be read here. It covers the three celebratory events which were held at Colchester, Hornchurch and Southend Jazz Clubs in February, where Essex Youth Jazz Orchestra and the National Youth Jazz Collective did great work of performing a traditional and modern jazz repertoire to appeal to an intergenerational audience. Many attendees were even inspired to dance the night away!
She also reports on the community reminiscence workshop held at the Vida Walsh Centre in Brixton, with Age UK Lambeth, where saxophonist Camilla George set the tone by performed jazz which had a special meaning to her and answered questions from the audience.
*** *** ***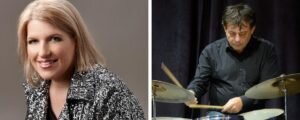 Autumn jazz – save the dates!
NJA Patron and celebrated singer Clare Teal brings her Trio (Jason Rebello on piano, Tom Farmer on bass, and Ben Reynolds on drums) to play a fundraising concert in Loughton on Thursday 14 September, and on Friday 24 November, master drummer Clark Traceybrings his group to play for the Archive at Mirth, Marvel and Maud in Walthamstow.
More details will follow in future newsletters.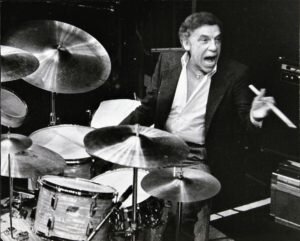 Gems from the Archive – Buddy Rich
This month we feature Buddy Rich, whose centenary the jazz world is celebrating throughout 2017. He was a seasoned child performer with his vaudeville act but his jazz career began in 1937 when he joined Joe Marsala's band. He later played with Tommy Dorsey's band and with such greats as Dizzy Gillespie, Charlie Ventura, Louis Armstrong and Gene Krupa. He was regularly featured in Jazz at the Philharmonic from the late 1940s and led his own big bands from 1966. During visits to the UK he was interviewed by Les Tomkins for Crescendo magazine three times, in 1968, 1971 and 1980. A joint interview with Buddy and Louis Bellson was recorded in 1979. All these interviews are available on the Archive website HERE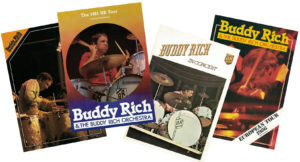 Earlier this year, musician and writer Dave Cooper donated his own Buddy Rich Archive to the NJA. This includes hundreds of articles about Buddy, running to some 1100 pages, with the earliest dating from 1922. Dave collected these over many years and used them to inform his own discography and book on Buddy Rich, copies of which are of course in the Archive. It also includes the fan club newsletter 'The Rich Report' produced between 1984 and 2002. Many thanks to Dave for this wonderful donation.
Here is the Buddy Rich Big Band performing at the Montreal Jazz Festival in 1982.
And to prove that Buddy did have a sense of humour here is the Muppet Show drum battle between Buddy Rich and Animal (actually the great British drummer, Ronnie Verrell).
And to prove that Buddy did have a sense of humour here is the Muppet Show drum battle between Buddy Rich and Animal (actually the great British drummer, Ronnie Verrell).
The photo at the top was taken by Denis Williams at the Forum Theatre, Hatfield, Hertfordshire, March 1980.
The National Jazz Archive was founded by trumpeter Digby Fairweather in 1988 and is supported by Essex County Council and the Heritage Lottery Fund.

Copyright © 2017 National Jazz Archive, All rights reserved.
You are receiving this email as you have asked the National Jazz Archive to keep you up to date with our work through signing up on our website, completing a feedback form or leaving us your email address.
Our mailing address is:
National Jazz Archive
Loughton Library
Traps Hill
Loughton, IG10 1HD
United Kingdom
Please follow and like us: