Back in April last year, Richard Exall commented on Jazz&Jazz: "Without this kind of work, live jazz would be dead!"
He was referring to Tad Newton's sterling work in promoting jazz throughout the year in and around Northampton and further south in Bedford. Any jazz promoter will tell you that these days it takes dedication and stoicism organising jazz for just one club let alone several venues. More so those promoters with their own bands. Because Tad also needs to allocates slots for his own band and musicians  – Tad Newton's Jazz Friends – besides booking them into venues far and wide!
Not an easy task!
So Jazz&Jazz is pleased to focus on Tad Newton's
ongoing May/December Jazz Fest! Read on!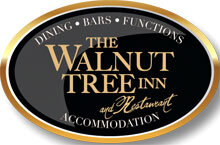 SUNDAY  LUNCHTIME  JAZZ
THE WALNUT TREE INN
STATION RD, BLISWORTH, NORTHANTS. NN7 3DS. 12-2.30pm
Great venue, three miles from J15 on M1. Free parking, real ales, great hot food, bar snacks, top national and international jazz bands.
12 Noon til 2.30pm
ADMISSION £10 on the door. Tel: 01604858549
Full on programme of varied and swingin' jazz!
*** *** ***
First up, this coming Sunday, April 30th:
Graham Smith's "Jazz Allsorts"
Great band led by Graham Smith and featuring alumni from the bands of Acker Bilk, Chris Barber, Pete Allen, and Alex Welsh.
Jim Douglas (guitar/banjo), Tony Pipkin (trumpet), Amy Roberts (clarinet/sax), Richard Leach (trombone), John Day (bass).
Simply not to be missed!
*** *** ***
MIDWEEK WALNUT SUMMER SPECIALS
8.00 -10.30pm Tickets on sale now (or on door if available)
Wed May 10th: Tad Newton's Jazzfriends with  guest star, great young jazz vocalist,
Anna Jaichner!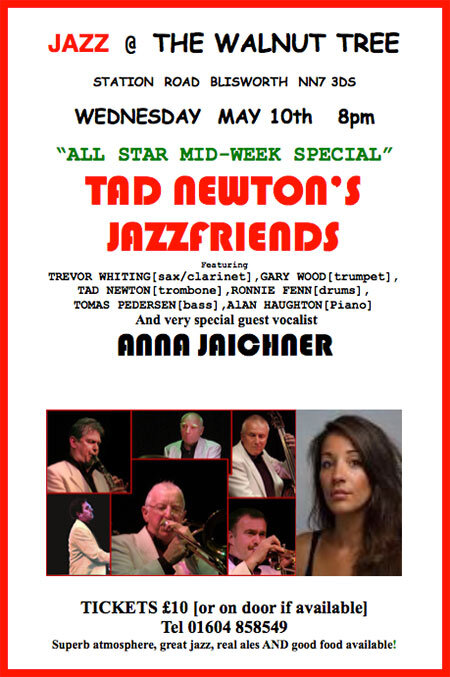 Wed June 14th: Pete Allen and his Band. 
Wed July 19th: Greg Abate (USA sax/flute superstar)
with Tad Newton's Jazzfriends!
Wed Sept 13th: Craig Milverton (superb, award winning jazz pianist) with Tad Newton's Jazzfriends.
PLUS NEW ORLEANS COMES TO BEDFORD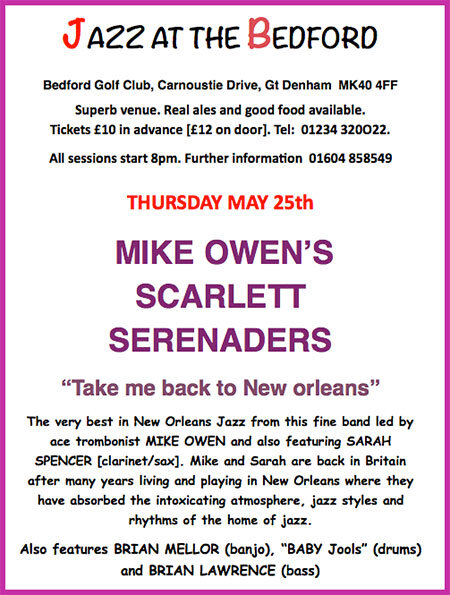 SUNDAY LUNCHTIME NEW AUTUMN SEASON
Oct 1st: Kevin Grenfell's "Zoot Suit Ch' Boogie Band"
Oct 8th: The Sussex Jazz Kings
Oct 15th: Dave Moorwood's Rascals of Rhythm
Oct 22nd: Old Blue River Jazz Band (from Holland)
Oct 29th: Mike Owen's Scarlett Serenaders with Sarah Spencer.
Dec 5th: Take a day off with Guy Fawkes!
Nov 12th: Ben Cummings' Chet Baker/Gerry Mulligan Band with Amy Roberts [sax]
Wednesday Special Nov 16th: 8pm – 10.30pm Greg Abate guests with Tad Newton's Jazzfriends
Nov 19th: Welcome back Washington Whirligig!
*** *** ***
BONUS: A NOT TO BE MISSED BANQUET SUMMER SPECIAL!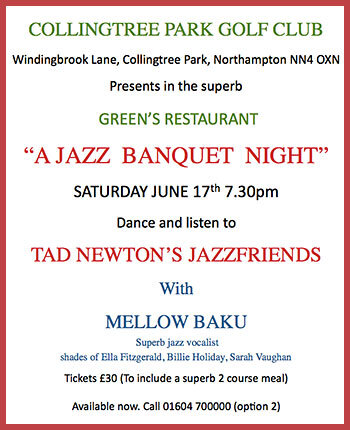 "LIVE JAZZ …USE IT OR LOSE IT!"
TAD NEWTON 01604858549
www.tadnewtonsjazzfriends.com
www.jazzandjazz.com
www.northantsjazz.co.uk 
Listen to "The Late Paul Barnes" BBC Radio Northampton every Saturday 11pm for the best in jazz sounds and jazz news!
Please follow and like us: