"Start Spreading The News!"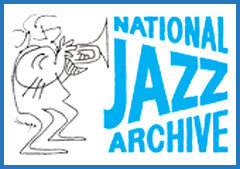 Welcome to our February 2017 Newsletter
Simon Spillett Quartet:
don't miss it!
Don't miss this great gig with the Simon Spillett Quartet playing a fundraiser for the National Jazz Archive. It's on Saturday 11 February in Loughton Methodist Church, starting at 2.30pm. Tickets cost £15. The quartet (John Critchinson, Alec Dankworth and Clark Tracey) includes no fewer than three award-winners in the 2016 British Jazz Awards.
Join us for a great afternoon of jazz, and support the Archive.
---
Trio Manouche and Clare Teal
dates announced
Two more NJA fundraising concerts have been confirmed.
More details will be available soon.
Gypsy jazz group Trio Manouche, with guest Quentin Collins on trumpet will play on
Saturday 24 June,starting at 2.30, and
NJA Patron Clare Teal and her Trio on Thursday 14 September at 7.45
Sponsorship packages are now available for NJA concerts – email us for details.
Trustee applications – closing date extended
The closing date for applications for new trustees for the National Jazz Archive board has been extended by two weeks to 24 February. In particular, we are seeking trustees with experience of archives and collection management, volunteer recruitment and management, fundraising and IT. Full details can be downloaded HERE.
Why not consider joining the board, to help steer the Archive to the next stage of its development?
---
Putting jazz and memories
into print: 11 March
Join Ann Cotterrell from Northway Books as she shares insights and anecdotes to illustrate the joys and pitfalls of publishing. The talk will focus on Northway's experience as a small publisher, including advice for authors on approaching a publisher and self-publishing, linked to jazz but not exclusively on a jazz theme. Read MORE.
The talk is at 2.30 in the Archive in Loughton Library, and forms part of the Essex Book Festival. Tickets cost £7, £5 (27yrs and under), and are available from the Festival box office, Mercury Theatre 01206 573948, or online.
---
Say it with music:
Youth jazz comes to Essex clubs
Youth jazz groups are playing at three clubs in Essex at the end of February, as part of the Archive's HLF Inter-generational Jazz Reminiscence project. All are welcome to these free sessions.
The Essex Youth Jazz Orchestra, led by Martin Hathaway, is at Colchester Jazz Club on Sunday 19 February, and Hornchurch Jazz Club on Sunday 26 February.
The National Youth Jazz Collective, featuring the BBC Young Jazz Musician 2016, Alexandra Ridout, is at Southend Jazz Club on Monday 27 February.
There will be displays of archive material from the Project, showing how different generations have invested in and celebrated jazz.
Read more.
---
Gems from the Archive:
Terry Cryer
This month we feature one of the foremost British jazz photographers, Terry Cryer, who sadly passed away in January. Terry's images graced many concert programmes and jazz magazines during the 1950s, particularly Jazz News. His photo of Ella (above) appeared on the front cover in March 1961.
Described by MOJO as 'the dean of UK jazz and blues photographers' the National Jazz Archive is proud to hold 157 of Terry's images, which can be accessed HERE:

From Muddy Waters to Eddie Condon to Ottilie Patterson to Kid Ory (above) to Joe Harriott, Terry captured them all during the 1950s and 60s.
Apart from his wonderful images from the jazz world, Terry also captured many movie stars, performers from popular culture and the world of politics. An obituary by his friend and fellow photographer Val Wilmer can be read HERE:
Terry's memoirs 'One in the Eye' were published in 1992, and it is hoped that they will be re-published in the UK and USA by Pen & Ink.
Terry was interviewed in September 2014 for BBC Radio 3's 'In Tune' when he talked about his life's work.
---
Adventures of a hometown tourist
Leigh Stanford has worked close to the Archive in Loughton for 12 years, but was 'ashamed to say' that she hadn't visited the Archive – until January. She was particularly impressed by our collection of Soho Jazz Festival posters and has blogged about her visit HERE.
---
Websites you may have missed:
The Hogan Archive
A wonderful introduction to the work of the William Ransom Hogan Archive of New Orleans Jazz Oral History can be heard HERE. The 12-minute interview with curator Bruce Rayburn outlines the origin of the Archive, and how it has built up to more than 600 recordings, described as "a window to the soul of New Orleans".
---
 100 years of jazz in Britain – BBC Radio 4
BBC radio producer Harry Parker visited the Archive in January to research the early years of jazz in the UK. In three programmes to be broadcast in February Kevin Le Gendre will explore how the music spread into popular culture after the Original Dixieland Jazz Band brought the sound of jazz to people's consciousness.
In the first episode Kevin explores how jazz made its way to the UK and how the idea of jazz began to spread into other areas of culture. In the second, he looks at the influence of the visits of Duke Ellington before and after World War II, and in the third, he investigates the role of jazz in post-World War II Britain and how the split between traditional and modern jazz showed itself in other art forms such as poetry.
The programmes are on Radio 4 on Tuesday 14, 21 and 28 February at 11.30am.
---
The National Jazz Archive was founded by trumpeter Digby Fairweather in 1988 and is supported by Essex County Council and the Heritage Lottery Fund.
Copyright © 2017 National Jazz Archive, All rights reserved.
You are receiving this email as you have asked the National Jazz Archive to keep you up to date with our work through signing up on our website, completing a feedback form or leaving us your email address.Our mailing address is:
Please follow and like us: