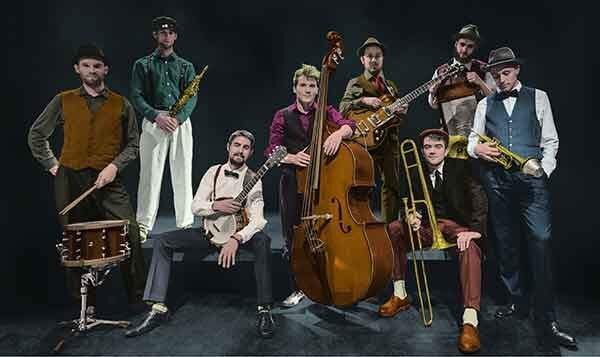 It was a privilege to film French Rag at Fest Jazz 2016. They not only won the Battle of Jericho, they won the hearts and minds of the discerning Fest Jazz fans, including mine.
And now they plan to win hearts and minds in the UK with a 2017 tour.
So, more about the band.
First the eight piece line up:
Mickaël Knockaert (Trumpet/Bugle)
Gordon Ortenzio (Sax)
Constant Sajaloli (T-bone)
Vincent Evrard (Guitar/Banjo)
Antoine Rivière (Guitar/Banjo)
Jonas Umbdenstock (Double Bass)
Marc Devillers (Washboard)
Marc-Antoine Moercant (Drums)
French Rag play with a joyful and explosive energy drawn from the deepest origins of jazz! On their website they describe themselves as "The French Rag Old School Jass Band" and immediately follow up that description with this amazing YouTube:
Another French Rag teaser – notice especially their young fans and the dancers:
Plus "The French Rag aux Paris Follies de la Coupole"
Thanks go to Marc Devillers for sending me these impressive YouTubes in preparation for
French Rag's 2017 UK Tour
scheduled from Friday 27 October until Sunday, 5th November.
This is a great opportunity for UK Jazz Clubs and promoters to get in on the act. One promoter with connections to this website has already made an offer. French Rag would be sure to add a new dimension to Jazz UK – and who knows, fastidiously promoted they could well appeal to many younger fans.
Register Your Interest
So, UK Jazz Clubs, Venues and Promoters, here's how to register your interest. Address enquiries direct to French Rag by email to Marc Devillers: [email protected] – preferably copied to me at: [email protected]. Views and options could also be submitted in "Speak Your Mind" below.
Surely an opportunity not to be missed!
Peter M Butler
Editor & Proprietor Jazz&Jazz
Please follow and like us: