JazzandJazz is honoured to accept recognition from The National Jazz Archive for services to jazz and to be invited to join them in the promulgation of all things jazz. What better place to start this joint venture than with their recently launched 
Intergenerational Jazz Reminiscence Project
The National Jazz Archive is a registered charity based in Loughton Library in Essex. It was founded in 1988, and holds the UK's finest collection of written, printed and visual material on jazz, blues and related music, from the 1919 to the present day.       
Their Intergenerational Jazz Reminiscence Project Archive is already half way through an ambitious 18-month programme which will expand the Archive's holdings in collaboration with local and national organisations, with participation from community groups of all ages. The project is exploring how different generations have promoted, performed, supported, and documented our jazz heritage. It has been funded by the Heritage Lottery Fund.
The project is focussing on three areas in Essex close to the Archive's base. In each location, using materials from the Archive and others supplied by local jazz clubs and the Chelmsford Museums service, the Archive team is engaging with members of Age UK / Age Concern activity centres, local jazz clubs, local youth groups and young jazz musicians to explore and discuss what music has meant and still means in their lives.
The generation that founded jazz clubs, learned to play jazz before there was any formal musical education in jazz, and who have donated their magazines, photographs and other material to the Archive are nearing their twilight years. Through interviewing and recording talks and discussions at intergenerational workshops in Age UK/Age Concern activity centres the project is logging and conserving the reminiscences of a generation of people who had to make considerable investment to access music. Music is a part of the workshops, including live music by both young and experienced musicians.
Interviews conducted by the University of Essex with older jazz musicians, club promoters and supporters are forming a permanent record of anecdotal jazz history. The project is working with the Black Cultural Archives to encourage participation from the older Black, Asian, and minority ethnic communities, including local musicians associated with these communities. Loughton Youth Project is participating in and filming the sessions. Their members are being trained in media, broadcasting and interviewing skills.
The interviews and memories collected by the project will be made available on the Archive's website and will contribute to an exhibition 'Say it with Music', celebrating the people and places that have shaped jazz music across the UK, at the Forum in Southend in May 2017.
The reminiscence project began in January 2016 supported by HLF funding of £83,300. It follows on from the very successful HLF-funded Story of British Jazz project that the National Jazz Archive completed in 2014, which resulted in storing and conserving more than 40,000 archive items (journals, photos, posters and programmes), cataloguing more than 4,300 books and 600 journals to series level along with personal and photo collections. Numerous journals, photos, posters and programmes were also scanned and digitised for direct access via a redesigned website.
The Archive's Lottery Funded 'Intergenerational Jazz Reminiscence Project', once completed, will make a invaluable contribution to the 'Story of British Jazz' made available via the Archive's web site for future jazz researchers, musicians and equally important, jazz fans.
However, whether a musician, club owner, promoter or a regular fan, it's the jazz and the wonderful experience of playing or listening and even dancing to the music they love that's the vital element. Recognising this, the Archive, in partnership with three top jazz clubs in Essex, is hosting sessions of live music and dancing. Alongside will be displays of archive material from the Jazz Reminiscence Project, showing investment in jazz across the generations.
The first two gigs will feature the exciting Essex Youth Jazz Orchestra, directed by one of the country's leading jazz musicians, Martin Hathaway, providing opportunities for musicians aged between 14 and 17 years who have a love for jazz.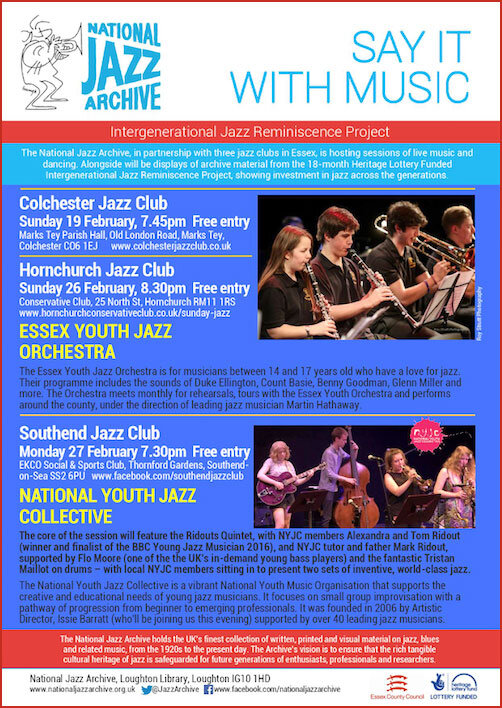 The first EYJO outing is at the Colchester Jazz Club on Sunday 19 February, 7.45pm: www.colchesterjazzclub.co.uk  The second is programmed for the Hornchurch Jazz Club on Sunday 26 February, 8.30pm: www.hornchurchconservativeclub.co.uk/sunday-jazz
The third gig will feature the vibrant National Youth Jazz Collective which supports the creative and educational needs of the young jazz musician. They will perform at the Southend Jazz Club at 7.30pm on Monday, 27th February: www.facebook.com/southendjazzclub
All three gigs are entrance free and all are welcome to come along to see and hear the future of UK Jazz. Further updates on the 'Intergenerational Jazz Reminiscence Project' will be posted as the project progresses.
National Jazz Archive
www.nationaljazzarchive.co.uk
Peter M Butler
Editor & Proprietor Jazz&Jazz
(Photos © National Jazz Archive)
Please follow and like us: