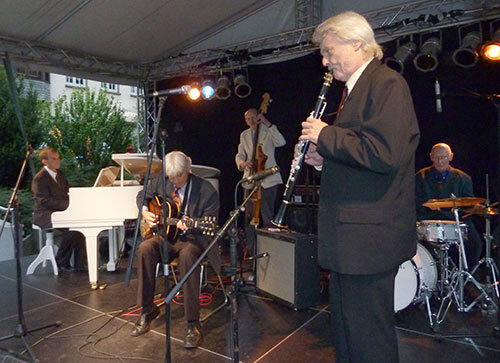 Jerry Šenfluk & Capital Swing recapture all that was best in the
mid 40's height of the Swing Era.
Capital Swing are Jerry, Martin Litton, Nils Solberg, John Rees Jones and Jack Cotterill. Together they will recapture the musical highlights of Benny Goodman and Artie Shaw, yet with their own twists from their vast experience of a wide range of styles. A truly international quintet and their music is hot.
Jerry selects material and themes from some of the forgotten but magical backwaters of both the American and European musical heritages and revives standards with a zing to grab
the listener anew.
Capital Swing have starred at the Pizza Express Jazz Club, the Barbican Centre, the 100 Club, the Royal Festival Hall and Tufnell Park Tavern. They have featured on BBC Radio 2 as well as at festivals in Canterbury and Hay-on-Wye.
The band's first audio cassette was released in May, 1995. With a grant from The Arts Council of England, the quintet released a compact disc in June, 1998. Four months later they took a residency at the Dock's Bar & Grill in Whitechappel where they were involved in plans for venues in London's Docklands and Greenwich.
And now they are planning a return to the UK in May/June this year.
Jerry Šenfluk
Clarinet
Born in Prague, Czechoslovakia, on St. Patrick's Day, 1946, Jerry is the younger son of a pianist mother and a cellist father who gave him a thorough musical education in playing piano, intonation and musical theory. He received private tuition from the Principal Clarinetist of the Czech Philharmonic Orchestra and, in 1967, graduated from the Conservatoire of Prague.
With a father who frequently toured the world and brought home many a record, he was influenced by the music of Louis Armstrong, Benny Goodman, Fletcher Henderson, Sidney Bechet, Duke Ellington, Jack Teagarden and Coleman Hawkins.
Frequently in demand on the London Jazz Scene, Jerry has appeared with Acker Bilk and his Paramount Jazz Band, Fred Hunt (Alex Welsh Band) and Ron Wheatherburn of Kenny Ball fame. He also toured widely with Max Collie's Rhythm Aces, Acker Bilk,
Kenny Ball, Larry Adler and Roy Williams.
Martin Litton
Piano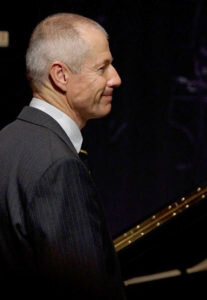 Born in 1957, Martin Litton studied at Colchester Institute, graduating with a BA in Music. His early career included periods with Harry Gold & his Pieces of Eight and Kenny Ball, with whom he toured Russia and the Middle East. Later work included recordings with leading British musicians such as Humphrey Lyttleton, Wally Fawkes and Digby Fairweather.
In 2002 Martin Joined the Pizza Express All Stars, led by veteran saxophonist Tommy Whittle. His contribution to singer Claire Teale's first three albums,
as arranger and pianist, was highly acclaimed.
Martin's own eight-piece band, Martin Litton's Red Hot Peppers, expertly recreates the music of Jelly Roll Morton and has featured on BBC Radio and at Festivals throughout the UK. As a soloist he appears regularly at major UK jazz festivals, including Keswick,
Whitley Bay, Bude and Swanage.
Nils Solberg
Guitar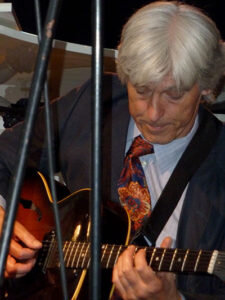 Born in Durban, South Africa, of Norwegian descent, Nils grew up in England. He taught himself to play the guitar from the age of ten and was switched on to playing jazz when he heard Django Reinhardt and Stéphane Grappelli. He subsequently broadened his style to encompass not only gypsy jazz, but also traditional, swing and mainstream jazz. He became a professional musician after leaving art school in 1974. He has recorded two albums with the legendary bass player Peter Ind, and three albums with British Jazz Diva Clare Teal, as well as his own latest album 'The Best Man'. More recently he stars regularly with The Adrian Cox Quintet.
John Rees-Jones
Double Bass
John classically trained as a cellist but moved over to the double bass and bass guitar in the late 1970s. John has worked with innumerable British jazz icons such as George Chisholm, Bruce Turner, George Melly and Martin Taylor as well as with many American jazz stars including Charlie Byrd, Al Casey, Al Cohn, Kenny Davern, Harry 'Sweets' Edison, Herb Ellis, Slim Gaillard, Herb Geller, Scott Hamilton, Barney Kessell, Benny Waters, Warren Vaché, and 'Peanuts' Hucko.
In 1993 he toured, recorded and appeared on television with the Kenny Baker/Don Lusher band as part of the 'Giants of Jazz' package along with Kenny Ball's and Acker Bilk's bands.
He was a member of Humphrey Lyttelton's band, The Best of British Jazz, and deputised on numerous occasions with Kenny Ball's and Acker Bilk's bands .
Jack Coterrill
Drums
Jack Cotterill is from a family of talented jazz drummers, son of Robert Cotterill and grandson of Pete Cotterill. At age 15  in 2008, he was one of the youngest musicians on the scene. Now he plays with some of the top names in British jazz: Adrian Cox, Denny Ilet, Graham Hughes the list goes on. Jack has been playing drums ever since he can remember and plays at clubs and festivals throughout Britain.
Peter M Butler
Editor & Proprietor Jazz&Jazz
Please follow and like us: