'You might be interested in featuring my article "Alan Cooper Remembered" – written for my website – in your jazz film area.'
Jamie, I'm ovewhelmed by your entire site!
Jamie
played piano with Alan Cooper for 30 years and admired him greatly as a musician. They became firm friends. He launched the website "in honour of a superb jazzman". It includes memoirs and pictures from many who knew him. Jamie has since broadened the website to include a glorious range of  jazz-related memorabilia.
For the very fulfilling Alan Cooper feature visit:
Then take time to browse through other features on Jamie's site including: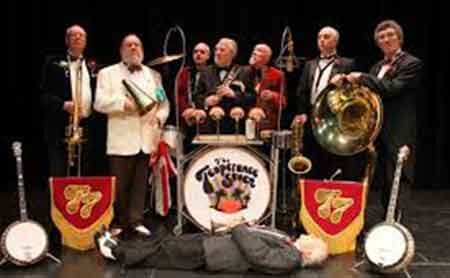 Jamie would welcome observations about "Alan Cooper Remembered" here on Jazz&Jazz. Do add your thoughts in "Speak Your Mind" below. You can also email Jamie at [email protected]
Jamie, featuring your absorbing website gave me great pleasure. It's a massive contribution to jazz and to Jazz&Jazz. And thanks especially for kind words below and your generous contribution to my "Jazz&Jazz Fighting Fund" via the Donate Button.
"Everyone knows what a modest bloke I really am but I was truly overwhemed to read Peter Mark Butler's comments in his excellent magazine Jazz&Jazz. Thanks Peter for your kind words and for giving the Coops site more coverage." John Jamie Evans

Back in 1961 not long after I first got into jazz, the Temperance Seven released "Pasadena". I first heard it in a wonderful old beamed farmhouse in deepest East Kent. The occasion – a party thrown by the farmer's two attractive daughters! I was hooked! Read into that what you will! My wife Ginny is American and lived in Pasadena in 1961! So here, in honour of Jamie's wonderful site is "Pasadena".
There's More!
I simply had to include this YouTube because it's Alan Cooper with that medal again!
Just one more from The Plough back in the early 1990's:
"After You've Gone" we still remember!
That's all folks!
Peter M Butler
Editor & Proprietor Jazz&Jazz
Please follow and like us: