In his latest Jazz North West Newsletter Fred Burnett introduced "a young lady causing quite a stir in the NW".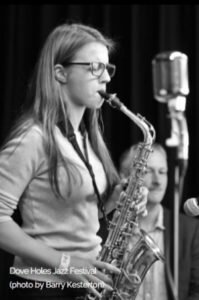 Fred first mentioned sixteen year old Alex Clarke in his 25th October Newsletter after she made an appearance Saturday night at Roa Island with Martin Bennett's band, and then on Sunday with The Sun Street Stompers at the Robert Gillow in Lancaster. Mike Lovell followed up by inviting Alex to play with his SIX-IN-A-BAR band at The North Euston Hotel in Fleetwood.
Fred went along and captured the above video on his phone.
So as Fred says "It's obvious why Alex is beginning to get noticed in this part of Lancashire. You can judge for yourself"!
If you'd like to know more about this young lady, check out www.alexclarkejazz.co.uk
Please follow and like us: