October 2016 Newsletter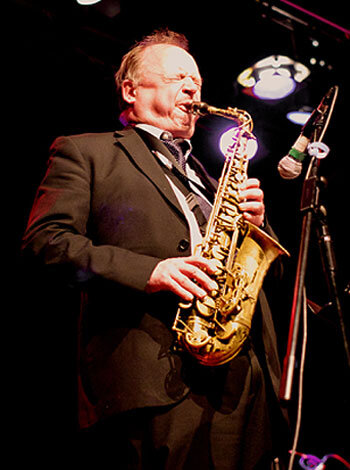 Don't miss the Alan Barnes Quintet on 22 October!
Multi-instrumentalist Alan Barnes is bringing a top-flight quintet to play a fundraiser for the Archive on Saturday 22 October in Loughton. The concert starts at 2.30, tickets are available
here or on the door.
Here are previews of these wonderful musicians.
Alan Barnes is a prolific performer, composer, arranger, bandleader and touring soloist, best known for his work on clarinet, alto and baritone saxes, where he combines a formidable virtuosity with a musical expression and collaborative spirit that have few peers. Here he introduces and plays 'Lotus Blossom' on baritone with the David Newton Trio.
Henry Lowther, one of the UK's leading jazz musicians since the 1970s, plays a wonderful solo on flugelhorn here on the gourgeous 'Mateja Sleeps' with the London Jazz Orchestra.
London-based pianist Frank Harrison is best known for his work backing saxophonist Gilad Atzmon, but he has recorded four CDs with his own trio. 'Live at the Verdict' was recorded in Brighton in 2014 and videos of the performance are here.
Simon Thorpe plays in and leads several bands, including improPHONICS, the swing band Jivin' Miss Daisy, and his own octet. His strong, melodic bass style is featured on numerous CDs. Here Simon plays 'What's New?' with the John Donaldson Trio.
Matt Fishwick is one of the first call drummers in London. He worked in New York for several years, but is back in London where he leads his own quartet and co-leads a band with his brother Steve. Here he plays 'I'll Remember April' with Najponk and Jaromír Honzák.
New Guide to the Archive
To make it easier to explore our collections and website, we have compiled a Guide to the Archive. The Guide outlines the main holdings at Loughton, explains how to search the online catalogue and the digitised material on the website. Download a copy here.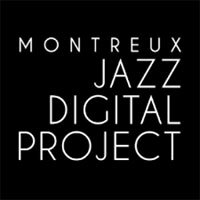 Montreux Jazz Festival Archive goes online
The greatest moments at the Montreux Jazz Festival year after year since 1967 can now be explored through this interactive video. The Festival has 50 years of performances in its archives, and over 5000 hours of video and 5000 hours of audio recordings have been digitized and made available through a multimedia platform. Navigating between video and audio recordings, photos and articles is simple and intuitive. In addition, several layers of information are provided on the artists and the concerts.
Music lovers can select from among the highlighted artists and news articles, or use the search engine to find what they want. The database also contains line-ups and set lists since 1967. The project to preserve the recordings, made in numerous formats over the years, began in 2007 and will soon be completed by the EPFL Metamedia Center. Read more here.
Open Day in Loughton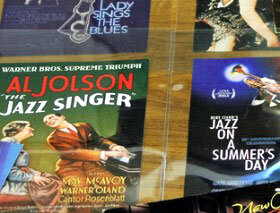 Project archivist Layla Fedyk writes about our recent Open Day at the Archive here.
Loughton Town Mayor Carol Davies visited us, and several one-to-one interviews were recorded during the day with other visitors. NJA Trustee Vic Hobson once again obliged by jumping in to conduct the interviews: as a musicologist, bass player and Essex resident, Vic has the advantage of being able to pick up on specialist or local aspects in the interviewee's conversations and draw them out further.
Above: Our chair Paul Kaufman listening to an oral history interview recorded as part of the Intergenerational Jazz Reminiscence project.
Recent donations to the Archive – Mike Shera and David Butler

Mike Shera founded the Hull Jazz Record Society in the 1970s, and wrote and reviewed for Jazz Journal for many years. He died at the end of 2010, and his daughters Fiona and Georgina have sold his jazz record and CD collection through NJA partner Rabbit Records. As a result, a wonderfully generous donation of £1000 has been made to the Archive.
A note on Mike's life by Fiona and a letter about him by Richard Palmer in Jazz Journal can be read here.
We're also most grateful for the donation of £400 from Rabbit Records from the sale of records and CDs donated by David Butler.
To find out more about how to sell your vinyl and support the Archive, click here.
Gems from the Archive – Benny Goodman at Carnegie Hall
Often described as the most significant concert in jazz history, the 16 January 1938, concert by Benny Goodman and his Swing Orchestra at Carnegie Hall, New York, was not only a coup for jazz but one of the first racially integrated public performances.
The original three-page programme is held in the Archive as are images of the participants taken in the UK.
In addition to the Goodman band, probably the most popular big band of the day, the concert included some of the brightest jazz luminaries of the time, including Count Basie, Buck Clayton, Johnny Hodges, Walter Page, Lester Young, Harry Carney and Freddie Green. They were special features from Harry James, Teddy Wilson, Lionel Hampton and, of course, Gene Krupa with the show stopper, Sing, Sing, Sing.
Originally issued in a two-LP gatefold album in 1950, the nearly forgotten recording of this historic event quickly became Columbia's best-selling jazz release, a distinction it held for decades. The whole album may be listened to here.
The album formed the basis of scores of vinyl collections in the 1950s and allowed UK fans to listen to their US heroes on their BSR or Garrard auto-changers. It was issued 'auto-coupled', allowing sides 1 and 2 to be played consecutively then both discs turned over to play sides 3 and 4.
Catherine Tackley has published an in-depth study of this seminal concert and recording. She examines its cultural setting, analyses the compositions, arrangements and performances, and discusses the impact of the event and album.
Jon Hancock's remarkably detailed book and website provides the most fully researched account of the concert, and the various reissues of the music.
Miles Davis and John Coltrane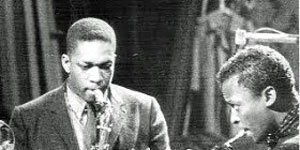 Miles Davis and John Coltrane at 90
A three-day conference – Miles Davis and John Coltrane at 90: Retrospect and Prospect – focusing on the music and legacy of Miles Davis and John Coltrane, both of whom would have celebrated their 90th birthdays this year, is being held at the University of Surrey on 21–23 October. Thirty expert speakers and performers from across the world, including broadcaster Alyn Shipton, will discuss, assess and play the music of these two artists. The conference will feature performances from Ronnie Scott's All Stars, the Gary Crosby Quartet, and Steve Waterman. Booking closes on 7 October – details are here.
The National Jazz Archive was founded by trumpeter Digby Fairweather in 1988 and is supported by Essex County Council and the Heritage Lottery Fund.
Copyright © 2016 National Jazz Archive, All rights reserved.
Our mailing address is:
National Jazz Archive
Loughton Library
Traps Hill
Loughton, IG10 1HD
Please follow and like us: