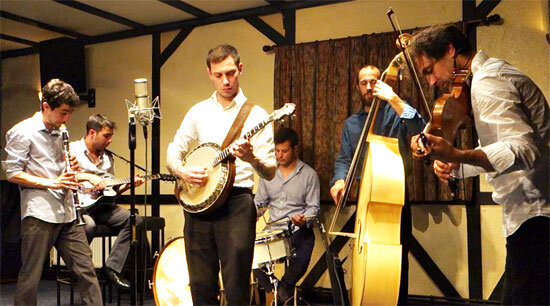 A fan commented on one of my Hippocampus Jass Gang YouTubes:
"This band will become famous!"
I am indebted to The Bay Jazz Club, Enfield, and to Hippocampus for permitting me to film them on Tuesday, 21st June, during their UK tour. The Bay is an excellent venue for filming compared, for instance, with festivals where it isn't always easy to achieve best results.
Hailing from France, Hippocampus surpassed all my expectations. Much of their repertoire draws its inspiration from the hot jazz of the early New Orleans era, yet with an intensity and inimitable charm all of their own. With this, plus their interpretations of French and European Jazz and Swing, they are indeed going places.
 "The Gang" are, en française:
Joseph Vu Van: Banjo, chant et arrangements
Pierre Bayse: Clarinette, clarinette basse, chant
Heykel Bouden: Violon, chant
Alexis Chauvelier: Guitare, chant
Gildas Le Garrec: Contrebasse, chant
Simon Laurent: Batterie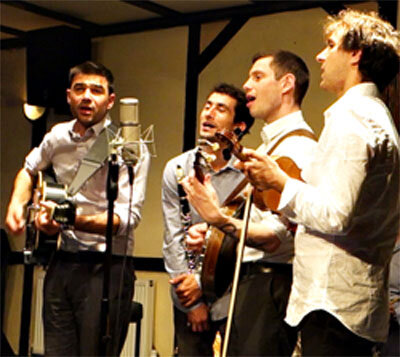 "They are a breath of fresh air": Just Jazz Magazine 2011
"They are making music in a style unlike any others I know of": Jazz Guide 2014
… and so to the Jazz&Jazz YouTubes
Hippocampus are at: http://hippocampusjassgang.weebly.com
Peter M Butler
Editor & Proprietor Jazz&Jazz
(Photos & YouTubes © Peter M Butler, Jazz&Jazz)
Please follow and like us: